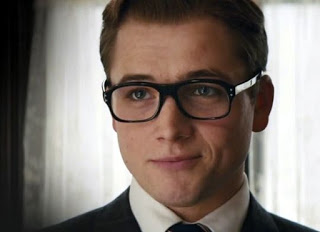 Taron Egerton is in discussions about playing Elton John in a film based on the classically trained singer-songwriter's eventful life.
Egerton, who played Eddie 'The Eagle' Edwards in a movie last year and returns as the Cockney-lad spy in the much anticipated Kingsman sequel The Golden Circle in September, has been having informal conversations with Dexter Fletcher and Matthew Vaughn, the director and producer (respectively) of Rocketman.
It will explore the Oscar, Grammy, Olivier and Tony award-winning entertainer's life in and out of the spotlight.
Tom Hardy had been signed to play Elton four years ago. But the actor admitted to having trouble carrying a tune, whereas Egerton has a strong tenor voice.
The 27-year-old Welshman also has a good ear for accents, and with practice — and a little help from Elton himself — he should be able to capture the superstar's style of singing.
Rocketman, which has a screenplay by Lee Hall (who worked on the Billy Elliot musical with John) had been languishing, but was put on the fast track after Vaughn and Elton chatted between takes on the set of Kingsman: The Golden Circle, in which the singer, essentially playing himself, has a significant cameo.
There's hope that Rocketman might be shot later this year, but it will depend on whether Egerton and his representatives are able to arrange terms with Vaughn and his colleagues.
The film starts just as the teenage Reginald Dwight is about to leave the Royal Academy of Music, where he had won a piano scholarship at the age of 11. It then shows how he linked up with lyricist Bernie Taupin and how the pair went on to create numerous pop standards including Bennie And The Jets, Goodbye Yellow Brick Road, Crocodile Rock, Candle In The Wind and Rocket Man.
The film won't gloss over some of the juicier parts of John's private life, but it also wants to examine how he has become one of the best singer-composers of all time and how he has retained his fame in spite of scandals.
'The public likes a flawed genius,' someone close to the production told me. 'And don't forget new generations are being introduced to songs he wrote decades ago.
'Plus, there's the work he did on Disney's The Lion King, Billy Elliot and all those albums and all that touring.'
Elton lives fabulously well but, over the years has given away millions to his Aids foundation, the Royal Academy of Music, and several other charities.
A spokesperson for Vaughn confirmed that Rocketman will be a co-production between John's Rocket Pictures and Vaughn's Marv Films.
COMMENTS
There aren't any comments yet.
Comments are closed.