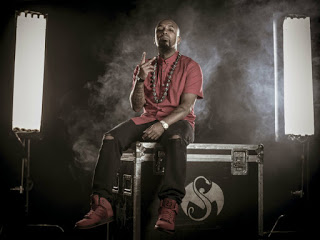 "There's someone from El Paso I'm a big fan of," Elton said just moments before he dedicated "Don't Let The Sun Go Down On Me" to Khalid. "He's going to be a big star."
The musical bro-mance started when Apple Music's Beats1 released an interview on Thursday morning with Elton John, whose 70th birthday is this Saturday. Toward the end of the interview, Elton talks about which new artists he'd most like to work with.
"I'd like to do something with Bruno Mars, I mean, but he's not a new artist," John replies. "New artist wise, Khalid. I love Khalid. I'm playing in El Paso where he's from on Wednesday."
And that's how it happened.
– El Paso Proud
When Sir Elton John waltzed into a Canadian record store earlier this month, he wasn't asking for David Bowie or The Beatles — he wanted music from Tech N9ne. To any artist, this would be a monumental co-sign from one of rock's greatest living legends, but to the Strange Music Inc. powerhouse, it was also a sign he was on track with his career.
"That was so crazy, man," Tech N9ne tells HipHopDX. "It's validation that people think I do beautiful music just like they do. Somebody of that magnitude who's a genius of music for so many years and still relevant today makes me feel real good inside, and lets me know I'm truly going the right direction. I always knew I was going the right direction 'cause I showed them my heart, but that kind of validation just makes you smile inside."
Despite the vast differences in the style of music each artist creates, it wouldn't be out of the question to work together. Sir Elton famously performed "Stan" with Eminem at the 2001 Grammy Music Awards and Tech N9ne has an affinity for soaring, piano driven ballads. It was something he picked up growing up in Kansas City, Missouri.
"Somebody you've been listening to since you was a kid is checking for your music," he says. "I remember my uncle and them singing me 'Benny and the Jets' when I was younger, which made me enjoy Elton John as well. To think he walked in and asked for Tech N9ne off the top before anything — that means he was looking for something. I wonder what song or songs led him to me. That's what I want to know."
As fate would have it, Tech N9ne's lawyer in Los Angeles had a plug, so it's possible there could be a Elton John-Tech N9ne collaboration in the near future.
"We already sending him records and stuff, including the latest vinyl and latest LPs from me," he says. "My lawyer out there in L.A. knows his manager, so we've connected already. We just haven't gotten on the phone yet. I can't wait."
Akin to Tech's 2015 Special Effects track "Dying Flying," which relied heavily on an all-encompassing dark, emotionally-charged piano sound, the independent rap titan believes a joint project between the two would be similar in nature.
"It would be something really piano-driven," he explains. "It would be something with feeling. It would be something real. It won't be a clubber, nothing like that, it will be something people will feel with emotion, and something that changes key. Something that climbs. Something that brings you up and brings you down. Something really musical."
As Tech continues his current tour in support of 2016's The Storm, he's undoubtedly plotting his next move, which may or may not involve a feature from the knighted Brit. Until then, look for more strange music from his upcoming collabos project, Dominion, which is expected to arrive on April 7.
COMMENTS
There aren't any comments yet.
Comments are closed.