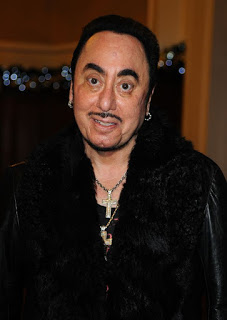 David Gest 's best friend has claimed the eccentric entertainer once vowed to have Sir Elton John killed by a hit man after apparently being incensed by one of Sir Elton's jokes.
The bizarre claim, which comes a year after Gest's death, was made by the late star's friend and bodyguard Imad Handi, who alleges the strange incident happened in 2003 but Gest eventually called off his idea.
According to Imad, the entertainer was furious after Sir Elton apparently made a joke about Gest's marriage to Liza Minnelli – so furious he started trying to find a hit man to take out Sir Elton.
Imad told The Sun on Sunday that Gest was living in Hawaii at the time and somehow managed to get in touch with a Maori bar doorman who apparently knew people who could help.
"David approached him about the possibility of bumping Elton off," claimed Imad. "No one knew his name but the Maori man said he had friends who could sort it for £40,000."
Imad went on to allege that he was given the responsibility of checking Sir Elton's diary to see when he'd next be in Los Angeles, before being the person who acted as the go-between, taking the £20,000 down payment from Gest and handing it to the hit man.
"I took the money in a white laundry bag to the Hilton village hotel and gave it to the man, " claimed Imad.
"He said he wanted the remainder afterwards. I felt guilty but I felt loyalty to David."
But, as Imad tells it, he started to worry about what he was getting involved in and pleaded with Gest to call off the plan – and was successful.
"He eventually said OK but told me I had to get his money back," said Imad.
"The man only gave me £8,0000 back so David lost £12,000 but at least Elton didn't die."
COMMENTS
There aren't any comments yet.
Comments are closed.