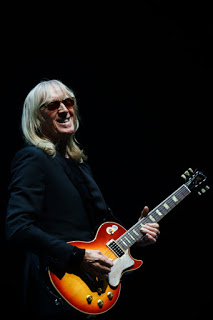 He's shared a stage with one of the world's biggest stars for almost half a century, performed in iconic venues that most musicians can only dream of, and lives among the beautiful people of Los Angeles.
Not bad for a wee guy from Corstorphine.
But for Elton John's guitarist and musical director Davey Johnstone, there's still no place like home.
That's why he's counting down the days until he takes to the Airdrie stage with the man he calls his "best mate" on June 24 for Elton's first-ever Lanarkshire show.
But despite being with the superstar since 1971, the Excelsior Stadium extravaganza won't be the first time Davey, 65, has entertained an Airdrie audience.
Speaking exclusively to the Advertiser he revealed: "I played banjo for Billy Connolly in a pub there back in 1966!
"I met Billy at a show in Glasgow and we hit it off and I ended up playing with him a few times.
"Looking back it's unreal. First off, I can't believe my parents let me go and play in pubs at the age of 15!
"Secondly, I was playing with Billy Connolly, what an amazing experience.
"I was a massive fan of his and back then Billy was a very important part of the music scene.
"I remember well that the folk scene in Airdrie back in the 60s and 70s was rampant."
Even before his folk music foray, Davey visited Monklands to play in a school football tournament, and he's excited to get back out on the pitch in Airdrie – although this time he's more likely to be wearing cowboy boots than football ones.
He continued: "I'm really looking forward to it. We all are.
"As a band, we tend to go where other big name performers don't.
"One reason is that it makes us happy visiting different parts of the world, rather than the same venues.
Secondly, it's more exciting for us to to take the music to these places and have a laugh with the crowd.
"I'd much rather play a smaller town like Airdrie than travel to a big city like Moscow, for example.
"We're all looking forward to making a connection with the crowd and giving the fans what they want. That's what it's all about!"
By the time the Airdrie performance comes around, dad-of-seven Davey will have played more than 2760 shows with Elton. However, on June 24 it's not only the Rocket Man's fans he will have to please. He laughed: "I think the hospitality box at the stadium will be monopolised by my family, it's going to be complete mayhem. I have a sister in Edinburgh and another one in York, so they'll be there plus all my nieces, nephews and cousins. I should have at least 20 family members there.
"We bring something different every night and there is such a huge catalogue of hits to choose from and perform.
"Performing isn't about going through the motions and we'll be coming to have a blast!"
Youthful looking Davey turns 66 next month and admits the strain of performing to such a high level does take its toll physically. But the guitarist revealed one of the main inspirations that keeps his plectrum plucking.
"I have such a close friendship with Elton," he explained.
"At some point we want to bow out gracefully from playing live. So many go on and on and end up beating it with a stick but we want to finish on a high note.
"I'm very fortunate to still be doing what I do and sometimes I wonder how I'm able to keep going.
"Maybe it's the amount of Guinness I've drank over the years!"
COMMENTS
There aren't any comments yet.
Comments are closed.