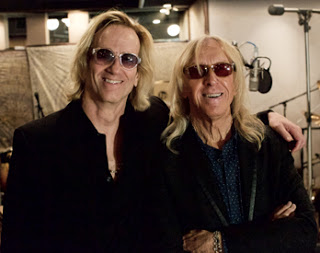 Today (May 5), we hope you will join all of us in wishing a very happy birthday to two members of the Elton John Band: guitarist and Music Director Davey Johnstone and keyboard player Kim Bullard.
Davey and Kim are both at home in southern California preparing to go out on Elton's next tour, which begins in Tel Aviv, Israel on May 26 and will carry through Russia, Europe and the UK during the summer.
With Elton's newest album, Wonderful Crazy Night, Davey has now played on over 280 Elton songs (having co-written 15 of them) across 21 studio albums and two soundtracks. He has also appeared on four live albums; five, if you count Divas Live '99.
On the other end of the spectrum, Wonderful Crazy Night marks Kim's first appearance on an Elton album. To commemorate the occasion, we interviewed Kim about his experiences working on the project.
EltonJohn.com: What, if any, direction did Elton and/or T Bone give you during the sessions?
Kim Bullard: T Bone and Elton wanted the band to do what the band does, so everyone pretty much came up with their own parts. I actually loved it when I got some direction from either of them, because it was always great direction, made things easier, and always improved what I was doing.
There is some moody steel guitar sounds I used on the record, and making a keyboard sound like a steel guitar is a tricky thing to do. T Bone is very familiar with that instrument, so he and I really had fun carving out little melodies together, and getting the phrasing to sound like the great steel players that he uses on other records.
There were several songs where Elton wanted his piano part doubled on Wurlitzer electric piano. I asked him to just play it himself, because it would be so quick and easy for him to do, but he and T Bone liked it better when I doubled the part. I have to admit, it was a little nerve-racking playing Elton's parts for Elton.
I always try to serve the song with whatever part I'm playing. Other than jazz records, most records I like have well-constructed, simple parts. Simple is usually best. That said, they pushed us all to do some outside stuff on Claw Hammer. Everyone kind of went nuts on that one!
EJ.com: Typically , was there one part that you laid down with the rest of the band, or was all your work done afterwards?
KB: It changed song to song, but generally speaking I played one part on every song as we tracked it live.
EJ.com: Is that you at the beginning of A Good Heart?
KB: That is Elton's piano part that I doubled with a flutey B-3 as we tracked it, and then we overdubbed a zither sample.
EJ.com: The beginning of Looking Up is you, yes?
KB: Yes, it is. It's a Wurlitzer electric piano through some distortion.
EJ.com: Was the part something that Elton spelled out on piano for you, or did you come up with it?
KB: It was a part I came up with for the body of the song that ended up becoming the intro. That part had kind of a funky, bluesy feel to it, and someone suggested we start the song with it.
EJ.com: It sounds like you did a lot of work on The Open Chord.
KB: Yeah, that song had a lot of keyboard work on it. After Elton wrote it, we ran it down for a bit searching for an angle; it was not obvious what to do with that one. At some point I started playing around with a pizzicato string thing. It seemed to have a vibe, so it was decided that we would build the track around that part.
EJ.com: What was it like watching Elton write and record in the studio?
KB: It is an unparalleled experience watching Elton write. He finds an intention for a song almost immediately, pretty much as he reads a lyric, and then moves through his vast music/songwriting vocabulary, trying different patterns, different harmonic structures, as he searches for vocal melodic shapes that work with the lyrics in front of him. It is a master class in songwriting.
The special thing for all of us, I believe, was that he welcomed us in to the process. If we loved a part he played, or a progression, we would speak up. We were like a songwriting audience, giving immediate feedback. Elton certainly does not need any help writing songs, coming up with great ideas, but I would like to think that he enjoyed having us all get excited as the songs came together.
COMMENTS
There aren't any comments yet.
Comments are closed.