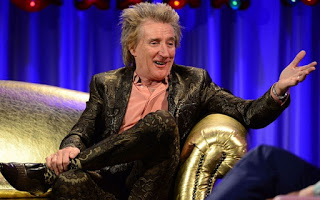 Rod Stewart has revealed that he and Sir Elton John regularly text each other comparing their album sales.
Worldwide success has evidently not dampened the glee of outdoing his old friend, as Stewart told Alan Carr that his Another Country album was beating Sir Elton's Wonderful Crazy Night.
Talking on Chatty Man about Sir Elton, Stewart said: "We have been in contact with each other a lot lately – emailing each other and bitching everybody out.
"Our albums came out at more or less the same time and we have been comparing how the sales are… I'm winning."
Asked if they were still as competitive as in their younger days, Stewart, 71, said: "We still are. We text back and forth with each other – how many albums I've sold and how many albums he has sold."
And their love of a gossip and a moan together has earned some unusual nicknames.
"We are known as Phyllis and Sharon. Long John Baldry gave us that nickname. I'm Phyllis and he is Sharon," Stewart said.
Hip-thrusting Stewart, whose residency at The Colosseum in Las Vegas was voted the best in town last year and has just been extended, was diplomatic about whether the news bothered Sir Elton and his The Million Dollar Piano show.
"We are still fairly competitive but I wouldn't have thought he would have minded. His is a different show. His is more stationary, if I may use that word," he said.
– Telegraph
In an interview with Sharon Osbourne prior to his performance with Lady Gaga in the old Tower Records parking lot on the Sunset Strip the day before the Oscars, Sir Elton John mourned the passing of Tower and the fate of his favorite L.A. bookstore of 40 years.
"I love record stores … and book stores," John told Osborne. "If Book Soup, over the road, went as well, then I'd probably throw myself off a cliff."
This week, Book Soup commemorated John's endorsement on a sidewalk chalkboard in front of the store.
"He comes in every other month and stocks up," says Book Soup's Rob Bieselin, who lettered the chalkboard and constructed a "shrine" to the singer in one of the store's windows in gratitude for his business and support of West Hollywood charities.
Bieselin says Book Soup's celebrity-savvy customers leave John alone when he visits and peruses limited editions and the store's collection of vinyl LPs. "He just does his thing."
Book Soup, which opened in 1975 and moved to its current location at 8818 Sunset Blvd. in 1985, has long catered to film, music and literary celebrities, as well as hosting untold events for celebrity authors including Hunter S. Thompson, Kurt Vonnegut, Ray Bradbury, Norman Mailer, Gore Vidal, Tom Stoppard, Edward Albee and celebrities-turned-authors like Muhammad Ali, Spike Lee, Herbie Hancock, Aerosmith's Joe Perry and Hugh Hefner. (Thompson's son Juan Thompson will read from his recently published memoir about growing up with the gonzo journalist at Book Soup on March 13.)
Having pledged to end it all if Book Soup closed, John quipped, "There'll probably be a few people petitioning for Book Soup to close so that I will throw myself off a cliff."
COMMENTS
There aren't any comments yet.
Comments are closed.