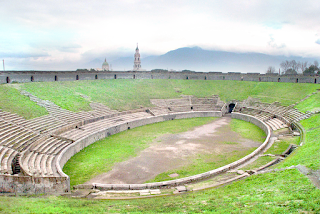 Elton John will perform in an ancient Roman theater in Pompeii in July as part of a world tour to showcase his new album "Wonderful Crazy Night", his Italian promoter said on Friday.
The concert has not yet been listed on the 68-year-old entertainer's official website but is advertised online by D'Alessandro e Galli.
"Elton John in the most evocative setting, July 12, Pompeii," the promoter's website says.
Pompeii was covered in hot ash after the Vesuvius volcano erupted in 79 AD. The ancient city is one of Italy's most popular tourist destinations, visited by millions every year.
It is still not clear whether Elton John will perform in what is called the Large Theatre, which holds about 1,400, or in the amphitheatre made famous by Pink Floyd in their 1972 film "Live at Pompeii", spokeswomen for the archaeological site and the promoter both said.
The Large Theatre, where Pompeii's citizens once watched comedies and tragedies, has held ballet and classical music performances for the past two years.
The Amphitheatre, where gladiators once fought, pre-dates the larger and better-known Colosseum in Rome by more than a century. The stone stadium can probably hold no more 2,000, one Pompeii spokeswoman said.
Pink Floyd's performed without an audience in the amphitheatre over four days in 1971.
COMMENTS
There aren't any comments yet.
Comments are closed.