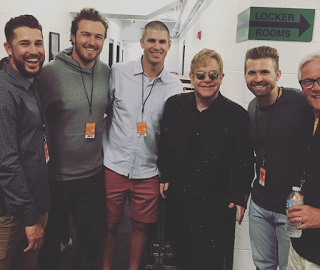 Phil Hughes couldn't help but be impressed by the intensity Sir Elton John brought to the stage.
Part of a 12-person Twins entourage that took in Wednesday night's show at nearby Germain Arena, the Twins pitcher marveled at the 68-year-old pop legend's antics.
"He was slamming the piano thing down after songs," Hughes said. "He liked the double fist pump. That was a big move of his."
Midway through the two-hour, 40-minute show, John dedicated "Your Song" to a Twins group he had met backstage before the show.
"It was pretty cool he did that," Hughes said. "He's a really nice guy."
Plouffe said he was "in shock when that happened."
Joining Hughes and his fiancée Sarah Haag were Brian and Renee Dozier, Trevor and Olivia Plouffe, and Joe and Maddie Mauer.
Mauer's parents and in-laws completed the group that met John, his band members and, most importantly, tour accountant/tour manager DC Parmet. Turns out the Arizona-raised Parmet became a Twins fan while living in St. Paul in 1987 and remains so devoted he sports an oversized tattoo of the team's logo on his midriff.
"Elton even said he knows how we've been doing based on DC's attitude," Plouffe said. "He was really insightful about sports in general."
The rock-n-roll hall of famer spent about 15 minutes with the Twins players and their wives before the show. Turns out John, who also owns a piece of a soccer team back home in England, has been a big Atlanta Braves fan since moving to Georgia two decades ago.
He name-dropped Mark Lemke as a personal friend and said he received a Christmas card from former New York Yankees great Paul O'Neill.
Mauer got to know Parmet a few years ago and attended a show. Plouffe met Parmet this offseason through a mutual friend after attending one of John's California tour stops, and the Twins third baseman and the tour manager have been emailing back and forth since then.
Despite the warm reception and Dozier's piano skills, there was no invitation for a Billy Joel-style dueling pianos deal.
"I was surprised Brian didn't get up there to tickle the ivories a little bit but he refrained," Hughes said.
While Hughes said he could only name one John song — "Candle in the Wind" — he did note while live-tweeting the show that "I'm Still Standing" could be his personal career anthem.
– Twin Cities
Sir Elton John has sent a very honest message to Australian country star Catherine Britt 'Fuck You Cancer'.
"I wanted to send you this message because I know you are doing this tour and support of breast cancer. I know you are suffering from breast cancer and you are recovering. I am sending my best wishes to you. You are doing an amazing thing. I want to say FUCANCER too".
COMMENTS
There aren't any comments yet.
Comments are closed.