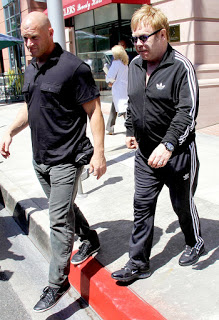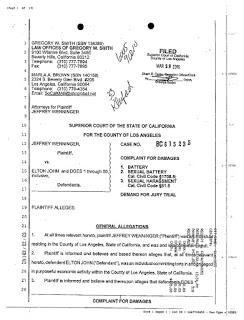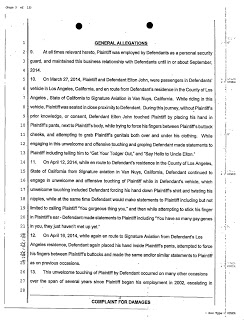 Elton John has been sued for sexual harassment, sexual battery and battery by his former security guard.
In a lawsuit filed in Los Angeles on Monday, lawyers for Jeffrey Wenninger accuse the singer of ongoing harassment over their 12-year working relationship. Wenninger worked for John from 2002 to 2014.
The lawsuit details three incidents of alleged harassment, all from 2014. In one, Wenninger alleges that the singer engaged in "unwelcome and offensive touching and groping" while in a car in Los Angeles.
While doing so, Elton John said things like "Get your todger out" and "Say hello to Uncle Elton," the lawsuit alleges.
In another alleged incident, John once again groped him, telling him, "You have so many gay genes in you, they just haven't met up yet.
TMZ has reported that in the lawsuit Wenninger claims that John "put his hands in Wenninger's pants" and "attempted to grab his genitals and put his fingers between Wenninger's butt cheeks".
The reports also accuse John of telling Wenninger to "get your todger out" and "say hello to Uncle Elton". On another occasion, John is alleged to have twisted the complainant's nipples whilst saying "You gorgeous thing, you".
While the suit details three instances, Wenninger's lawyers allege that the harassment occurred "on many other occasions" throughout his employment, "escalating in frequency and intensity after 2010." The lawsuit alleges that the singer's actions were "willful, wanton, malicious and oppressive."
Wenninger was "was placed in fear for his physical well-being, and suffered and continues to suffer extreme pain and mental anguish to his mind and body."
The lawsuit seeks unspecified damages.
– Mashable
NME approached press representatives of Elton John for a response to the claims, who forwarded a statement from Orin Snyder, the US attorney for John's Rocket Entertainment Group.
The statement reads: "This baseless lawsuit is brought by a disgruntled former security officer seeking to extract an undeserved payment. These claims are patently untrue and contradicted by numerous previous statements made by this plaintiff. We will not give into his latest abuse of the legal system."
COMMENTS
There aren't any comments yet.
Comments are closed.