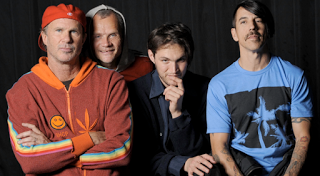 Sir Elton John has collaborated with Red Hot Chili Peppers.
The 68-year-old singer has teamed up with the American rock band – consisting of Anthony Kiedis, Flea, Chad Smith and Josh Klinghoffer – on a new record for their forthcoming album after the group persuaded him to work with them during a chat earlier this year in Los Angeles.
Speaking to the Daily Mirror newspaper, a source explained: "Anthony got in touch when he heard Elton was in town at the start of the year, and asked him to come down to the studio where they were recording.
"They were delighted when he said yes. The track they've done together is really great. The Chilis have always been huge fans of Elton – and it's been five years since their last album, so they were really excited about coming back with a bang. Elton has been really up for working with different artists so it all coincided really well."
COMMENTS
There aren't any comments yet.
Comments are closed.