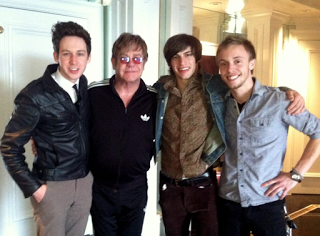 Kick The Robot was able to tour with 90s rock band Collective Soul for their southeastern run this past fall, and the band says that this experience truly propelled them forward and inspired them to work harder.
"Playing for those huge crowds really stuck with us and having that experience definitely helped make us more comfortable on stage," Remel said. "It was incredible."
A few years ago, the band was playing for a small audience in a bar in Atlanta after their set got pushed back, and a man in the audience was a close friend with the one and only Elton John. Next thing you know, the trio are sitting in the living room of a legend.
"I must have talked a pretty good game about the guitar I wanted. Elton just leaves with no words," Scarpone said. "He comes back, slaps a thousand dollars and says, exact words, 'Get that guitar and go write some f—king songs.'"
Dylan said that this really resonated with the band and directed them away from some bad deals. He said that if the group's first album can put them in Elton John's living room, the band's authenticity could push them even further with their second.
– Red and Black
AN auction house in Leamington is selling off a super car owned by Sir Elton John – and remarkably it won't break the bank.
The Maserati Quattroporte V has a guide price of between £15,000 and £17,000 and comes with the Rocket Man's name on the V5 certificate.
It's only got 28,000 miles on the clock too, having been sold by Sir Elton in 2010.
The Maserati will go under the hammer on 19 March at the Warwickshire Exhibition Centre in Leamington during the Classic Car Auctions (CCA) event, and sales staff are hoping for a musical fan with deep pockets.
CCA classic car specialist, Arwel Richards, says: "This is a wonderfully rare opportunity to buy an example of Italian exotica that goes like a rocket man.
"There's something about the way this car looks at night, and the vendor should still be standing as he waves goodbye along the yellow brick road to the auction rostrum."
Sir Elton ordered the car as new but rarely used it before selling it in 2010.
It comes with headphones, a DVD player, a six CD auto changer and national press cuttings from when Sir Elton originally sold the car.
COMMENTS
There aren't any comments yet.
Comments are closed.