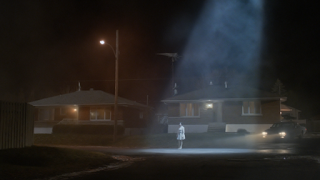 If the classic mid-20th century bungalows in Elton John's new music video for Blue Wonderful look familiar, it could be because the video was shot on Carré Richard, a residential street in Châteauguay on Montreal's South Shore.
CBC Montreal's Daybreak spoke to the video's director, Thibaut Duverneix, about his use of acrobatics, working under a strict deadline and shooting in Quebec.
"We found that place, and we just loved it. It was exactly what I was looking for," said the Montreal-based Duverneix.
He said he is used to working with a certain crew, so he did not want to risk shooting somewhere outside of Quebec.
In terms of security, the production crew also needed to find a space that did not have electrical wires that could interfere with the cranes and wires needed for the shoot.
For that, too, "the place was perfect," Duverneix said.
The video, which features a song from John's new album Wonderful Crazy Night, was planned in ten days and completed in a month — "concept to [broadcast]," Duverneix said.
Duverneix describes the video as melancholic and dreamy – walking the line between dark and joyful. It was shot on the last Sunday before Christmas.
The Blue Wonderful video features a dancing couple and uses acrobatics and wire work to create the illusion that the two dancers are weightless.
Duverneix is a director for Cirque du Soleil, which is how he met the performers.
"I wanted to do something between dancing and acrobatics," Duverneix said.
The video was meant to be a surprise for Elton John from creative director and consultant Tony King.
The singer-songwriter was not aware of anything being filmed until it was finished. Duverneix said Elton John loved it.
COMMENTS
There aren't any comments yet.
Comments are closed.