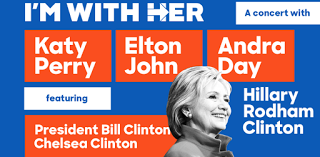 Hillary Clinton is assembling a squad, and it boasts music mavens Katy Perry, Elton John and Andra Day. The three will take the stage at Radio City Music Hall with the Democratic presidential hopeful on March 2, the day after Super Tuesday.
Clinton announced the concert on Twitter; both former President Bill Clinton and daughter Chelsea Clinton will be present at the event. Tickets (at $125 each) will benefit the Hillary Victory Fund.
COMMENTS
There aren't any comments yet.
Comments are closed.