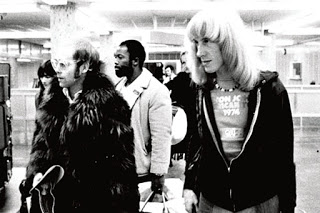 ELTON John's Scots guitarist Davey Johnstone has revealed how a rocket from the Rocket Man helped save his life.
Edinburgh-born musician Davey reckons he's been on more booze and drugs benders than all The Rolling Stones put together.
Yet he boasts he's the only man Elton's NOT SACKED after 40 years touring all over the world together.
And the 64-year-old has spoken of the moment pal Elton pulled him back from the brink as his life threatened to spiral out of control after his nine-year-old son Oliver died in a tragic 2001 pool accident.
Former hellraiser Davey confessed: "Elton saved my life and I could not be happier. The best thing that I did for myself was to stop drinking about six-and-a-half years ago.
"Elton's been sober for 25 years because he really had to. He was really going over the cliff and there were people around who were willing to support him — and he helped me.
"I was a maniac. An alcoholic is probably a very normal thing in Scotland. No one wanted to say anything but it got to the point that someone had to say something and Elton pinned me down.
"We were on a tour of Europe and he said 'Why don't you fly back with me and we'll spend a couple of days at the house?'. I love going there — we always have a great time watching the football and laughing.
"Then one day he sat me down and said 'You should have a look at your life and there might be something you should do to make it better and to honour your kid Oliver' because I lost a boy when he was nine years old and it almost killed me — as it does any parent who has gone through that awful thing.
"He said 'If you look at your life a little more seriously, instead of just trying to go balls-out every night and having to score a chick or drugs or whatever. It doesn't have to be that way'. And as a result of listening to Elton, my wife and my kids are happier because they know that they're not going to see this maniac occasionally appearing."
Dad-of-seven Davey added: "I took his
advice and it's been wonderful. You realise 'Jesus Christ, I've been a complete f***ing idiot'. You know what, I don't regret a day because I've lived life to the full."
Davey — who is also Elton's musical director — has played more than 2,000 gigs with the Candle In The Wind singer and can't wait to return to Scotland to perform at Meadowbank Stadium in his home city on June 25.
He reckons that becoming a dad with David Furnish has mellowed Elton, who had a notorious reputation as one of showbiz's biggest divas.
Davey said: "He's become a much better person from having kids and his relationship with David.
"It's really changed him because he's seen another aspect to life that he was never aware of before. He used to never take the top off his own egg. Someone would do everything for him but now he's been a bit more hands-on with nappies and stuff.
"He does have a reputation obviously — he's a massive diva. But we've known each other so long, I can basically say to him 'Get off your f***ing horse'. Or if he's having trouble then I can go and give him a hug and say 'Hey, it's OK. Everything will be all right'.
"He's always been the boss and I call him 'Boss', although I call him a lot of other things too.
"But he's just such a loyal friend and we've got closer over the years. We're just good mates. Funnily enough — and he says this quite often — I'm the ONLY one in all these years who's never been sacked."
Talented Davey — who co-wrote Elton's hit I Guess That's Why They Call It The Blues — has enjoyed an incredible four decades on the road with the music legend.
He beamed: "One of my favourite memories is after a Madison Square Garden gig in 1974 with John Lennon.
"We had a great party afterwards with Uri Geller, the guy who bends spoons, and then about one or two in the morning Elton called me up and said 'What a f*****g night, was that great or what?'. He said 'Listen, John wants to come over and hang out with you. Is that OK?'.
"And I said 'Nah, tell him to f*** off' and then I said 'I'm only kidding. Of course, it's OK'.
"And so John came over and we hung out until about eight in the morning and talked and I played him some music that I was into.
"Another thing about John is that he used to have an auntie living in Edinburgh and every summer he used to come up and spend a couple of weeks in Costorphine. I'm going 'F***ing hell, I lived two miles from there'. It's great when you discover stuff like that."
Davey also revealed that even legend Elton gets starstruck when hanging out with Rolling Stones pal Mick Jagger.
He said: "Mick used to come and visit the studio when we were recording and Charlie Watts is one of my dear, dear friends.
"I've had wild nights out with the Stones but I can't really give you the details of those nights because they are just too over the top.
"One of my favourite nights with The Stones was they came to see us in Los Angeles at the Universal Amphitheatre — and Mick actually is one of the few people who kind of intimidates Elton. He gets nervous.
"Elton was on stage and he was doing a solo version of Your Song and I was at the side with Mick, and Elton FORGOT the words.
"It was bizarre and Mick turned to me and said 'For f*** sake, tell him I've left'. He knew, he could tell that Elton was nervous because he was there."
Davey also has fond memories of going on massive booze benders with pal Billy Connolly — but revealed they are now meeting for afternoon tea at posh hotels.
The guitarist said: "I'm going to see him in London next week and we're gonna have high tea at the Royal Garden Hotel — which is a far cry from getting completely blootered in a pub somewhere.
"In the old days, it would have been three or four hours in the pub getting completely hammered but, you know, Billy stopped drinking a long time ago and I chucked it about six-and-a-half years ago.
"I still cherish my talks and texts with Billy, who is one of my idols and dearest friends, and I was so happy to see him get that TV tribute the other week.
"He's got Parkinson's but he's hanging in. It's a horrible disease, my sister's had it for 25 years, and it's an absolutely dreadful thing. But Billy is the kind of guy that he is so natural and he's not going to let it stop him.
"He's got it but his attitude is he's got to deal with it.
"The main thing is that we're extremely grateful that we've been so fortunate in life."
DAVEY hopes Elton wants to have a blast at T In The Park before retiring in 2020.
He revealed: "We can't do this forever obviously. We're looking at maybe four years more.
"In the old days Elton really was really distainful of playing festivals but he's realised that even though we've been doing this such a long time, a lot of the young kids want to see us playing live.
"So hey, if Glastonbury ask, I'm bloody sure we'll be there. And the same with Coachello or even T In The Park, because that would almost feel like a home gig for me."
However, Davey has doubts Elton will go through with his plan to hang up his mic for good in 2020. He said: "I think he'll finish when he falls off his piano bench because he loves it so much."
COMMENTS
There aren't any comments yet.
Comments are closed.