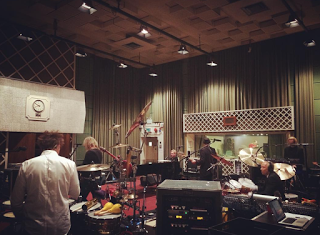 Elton John is showing me the living room of his London home. It's not a huge living room, or at least not by the standards of rock stars who have sold something in the region of 300m records (the London house is more of a pied-à-terre – his main UK residence is his estate in Windsor), and there is surprisingly no piano in it, or indeed anywhere else in the building: "I play 107 shows a year, why am I going to go home and play the fucking piano?" he says.
"I've got one at Woodside and one at my house in Atlanta, and I never touch them. Rufus Wainwright plays every morning when he gets up – 'I have to play an hour every day' – so everyone's different, but, God, I couldn't think of anything worse. I have leisure, and I have work. And I do enough work. When I get home, the last thing I want to do is play the piano."
So, no piano. What the living room does have is a lot of contemporary art. There is a Damien Hirst, a large Grayson Perry pot, a Marc Quinn sculpture of his baby son, made out of wax mixed with chemically produced milk substitute – Quinn's son is allergic to milk – and a vast photographic reproduction of The Last Supper by John's friend Sam Taylor-Johnson. Through a doorway I can see a corridor lined with huge David Bailey portraits, including the famous one of Harry Palmer-era Michael Caine, ciggie in mouth. They have apparently just moved the Warhol, but there is still stuff everywhere. You could potentially do hundreds of thousands of pounds of damage if you spilt a mug of coffee, a horrifying thought if, like me, you're holding a mug of coffee. Furthermore, spilling your mug of coffee is something you might easily do were you confronted, unprepared, by Liza Lou's The Seer. A life-sized, bright yellow, glass-bead-covered sculpture of a naked man with his head between his legs, who at first glance seems to be gamely attempting to urinate in his own mouth. No such luck: on closer examination, it turns out his penis is actually a knife and he is trying to stab himself in the throat.
"And don't forget the vaginas," notes John's husband, David Furnish, as he passes. They are on a beautiful canvas covered in needlework by the Egyptian artist Ghada Amer. "If you look down there," he says, pointing to the bottom right of the canvas, "there's a woman … playing with herself."
Furnish has been having rather a hard time of it in the press recently. A series of tabloid stories have claimed that as both Elton John's husband and CEO of his management company Rocket, he has "taken over" the singer's life. "Yeah, I've started calling him Yoko," says John. The most lurid of the stories claimed that Furnish's machinations during an 18-month cost-cutting exercise at Rocket were turning his husband into "an eccentric Howard Hughes-like figure". This, it goes without saying, is not a version of events that finds much favour with John. "Oh, I'm a recluse, what a load of bullshit. My businesses have been badly run for the last five or six years, he's come in, had a look at what's gone on, pruned a few people away, made it a leaner, meaner machine. We've made some changes and some of them haven't been very popular, because people don't like being gotten rid of, which is quite right. On a human level, I understand that people are hurt; on the other hand, they needed to go."
Today, though, at 68 going on 69 and dressed down in a tracksuit – a diamond crucifix earring the solitary hint of bling – John is clearly buoyed by the good reviews of his 32nd studio album, Wonderful Crazy Night, if slightly exhausted by the promotional campaign around it. This has thus far taken in everything from Graham Norton's chatshow to being interviewed by Vice to unexpectedly turning up in the middle of London's St Pancras and playing an instrumental medley on a new piano he donated to the station.
He says his commercial ambitions for the new album are modest, a far cry from the days when, according to one statistic, he was singlehandedly responsible for 2% of all global record sales. "I don't have to compete any more," he says. "It's Justin Bieber's time and Rihanna's time, Drake's time, let's just accept it and get on with it, move over. I make an album every year and a half, it's not an event when I make an album."
Still, he was anxious about how it might be received. His last album, 2013's The Diving Board, was a sombre collection of songs about ageing and mortality, interspersed with improvised piano instrumentals, "the most uncommercial album I've ever made". By contrast, Wonderful Crazy Night is raucous and poppy, filled with lyrics about enduring love and parenthood, the latter the handiwork of his longstanding lyricist Bernie Taupin. "I have no fucking idea how our relationship works," says John. "It's 49 years this year. I've never had an argument with him in my life, not about work, not about personal things, nothing. And we're totally different people. I mean, he's a fucking cowboy who likes guns and I collect tablecloths and porcelain. It's very odd."
Tired or not, he's full of music-industry gossip and enthusiastic recommendations of new music – French art-pop band Christine and The Queens, Rosie Lowe, the new album by former Beta Band frontman Steve Mason, agitated-sounding indie band Courts and Mabel, the singing daughter of Neneh Cherry – and keen to discuss his sons Zachary, five, and Elijah, three, and their love of both Kraftwerk ("I suppose it's because it's about robots") and the rebooted Thunderbirds franchise: "I like it because it's all about rescuing people and helping them, it's not so violent. When they watch Star Wars, they end up beating the shit out of each other."
Sometimes, it's weirdly easy to forget who you are talking to. The discombobulating effect of being surrounded by millions of pounds' worth of art aside, John could be anyone – some bloke in the pub, banging on about his kids and his favourite albums. At other points, you're left in absolutely no doubt that you're talking to someone who leads a life that, by any normal standards, seems completely insane.
Take the famous hoax call purporting to be from Vladimir Putin that came through to the studio: "I'm trying to write a song with Clean Bandit and my office phones: 'You're going to get a call from Putin.' Oh, fucking hell. So the phone goes, and it was so genuine-sounding, I had no idea. I answered the questions very studiously, so I didn't really feel bad when it came out that it was a hoax, I didn't feel like I'd made a fool of myself. And then the next day, the actual Kremlin get in touch: 'President Putin is very upset about this, he'd like to call you.' I was at home in Windsor, in the kitchen, when he rang. We spoke for about 10 minutes." The hoax call was the result of John declaring that he wanted to talk to Putin about improving LGBT rights in Russia. So is he optimistic? "Do I think anything's going to come of it? I sincerely hope so, whether or not anything will happen even if I do go and meet him, I don't know. But if you don't put your foot in the water, you'll never find out."
John says he has been trying to curb making the kind of remarks that lead to news headlines that almost invariably borrow the title of his 1974 single The Bitch Is Back. This means changing the habit of a lifetime. If you look online, you can find an interview from the old hippy magazine Friends. It's 1970, Elton John's career has yet to really take off – Your Song is just about to come out as a single – and he is already at it: a band called Brainchild have recorded one of his songs, but their version is "awful and who are they anyway?"; Spooky Tooth's cover of Son Of Your Father is "an abortion", while Rod Stewart's take on Country Comfort "sounds like he made it up as he played it – I mean, he couldn't possibly have got farther away from the original if he'd sung Campdown Races instead."
"Yeah, I've never been any different," he laughs. "But I am trying to rein myself in. I was supposed to do the Andrew Marr show, he's a very great interviewer, I love Andrew Marr, but they wanted me to talk about politics and I thought: 'You know what? I'm walking into a headline here.'"
Today, he is even tactful about his decision to stop Donald Trump using his music at his rallies. "I don't really want my music to be involved in anything to do with an American election campaign. I'm British. I've met Donald Trump, he was very nice to me, it's nothing personal, his political views are his own, mine are very different, I'm not a Republican in a million years. Why not ask Ted fucking Nugent? Or one of those fucking country stars? They'll do it for you."
The problem is, he says, that he's so famous that even if he doesn't actually say anything outrageous, someone will make something up. He is particularly baffled by a tabloid story that appeared in the wake of David Bowie's death, which said that he was planning to write a tribute song along the lines of Candle In The Wind. "Oh my God, it's just the most disgusting idea. I can't think of anything worse. Turn in his grave? David would probably throw up in his grave. We weren't even particularly good friends."
Nevertheless, he seems rather wistfully enamored of the way Bowie spent his final years, first disappearing from public view almost entirely, then returning to release music, but never giving interviews. "I was so envious of that, putting two records out and not having to talk about them. I'd love to be in a position to do that. I'd love to make completely oblique albums that I don't have to go on the road and promote. There will come a time when the records get less and less audience-friendly, they'll just be totally selfish records. I'd like to make solo piano record, just improvised. I want the next few records to get as out there as possible."
He talks about slowing down, about cutting back on the number of gigs he plays, even giving up touring entirely. But then again, he said almost exactly the same thing the last time I interviewed him. That was two years ago, in the wake of a health scare (he had nearly died when appendicitis had been misdiagnosed), he was openly worrying that he was as addicted to work as he had once been to cocaine, and yet here he is, still playing 107 gigs a year. "Well," he says, looking a bit sheepish, "that year I probably did 130 gigs so it's happening gradually. It's all about the school holidays now. It's on the horizon, it really is looming on the horizon. I'm hurtling towards 70, and I've made a promise to David and to my sons that I really don't want to be schlepping around the world at 72. I don't want to do tours any more that take me away from my children."
Would you really like to slip out of the public eye? "Oh God, I think about it all the time. I really hate the cult of celebrity. I used to go to the opening of an envelope and I loved it, because I was young. What I want to do now is completely different to going to a gay club when I was 28 and picking up a bloke. The thought of going to a club fills me with complete horror, although I love dance music. I want to be at home, I want to be with my friends. I genuinely feel uncomfortable in the limelight. When I'm talking about something philanthropic, then it's fine, but I'm always in the papers for something or other, I'm like a lightning rod, and it's just like: 'Oh, God.' I don't like it."
The thing is, he says, he never really wanted to be famous as such. "I answered an advert to become a songwriter for Liberty Records. I never expected to be me. I was very shy and timid and a little overweight. I would have absolutely settled for being a great songwriter, but they gave me some of Bernie's lyrics and we teamed up and it turned out that we were absolutely terrible at writing songs for Cilla Black and Tom Jones, which is what we were signed to do, so they told us to make our own records. I changed my name, and it was like this Ziggy Stardust moment, a huge release, but everything that happened after that was just hard work and kismet, the stars were aligned, I never expected it or planned it."
Does he worry about his children growing up in the spotlight? "Well, they're only five and three. I'll worry about it when it comes. I'm their dad, I'm famous, they live an extraordinary life. David and I talk about it all the time, we're fully aware of the pitfalls that might happen. They are spoilt in the way they live and how they're living, but they're not spoilt when it comes to the rules they have to live by. They get £3 pocket money, but £1 is for charity, £1 is for saving and £1 is for spending, they get three coins and put them in separate jars. And they have to work for it – help in the kitchen, help in the garden. They've got to learn the value of doing something and earning something for themselves. They live a very local life in Old Windsor, they go round their mates' houses, it's not a showbiz life as such. They're not stuck behind the gates of a mansion. Saturdays when I'm home, we go to Pizza Hut with them, we go to Waterstones, we go to the cinema. I've never been a recluse, I've never hidden away. I'm on the school run."
And how do people react when they turn up at Pizza Hut to find Captain Fantastic availing himself of the unlimited salad bar? "They just say: 'Hello, how're you doing?' If people want a photograph, I don't mind, I really don't. I'm not going to stay indoors because people want a photograph. The general public, I have to say, are fucking brilliant when it comes to that kind of thing. They're not hostile in any way, they're really supportive, they couldn't be sweeter."
And with that, he heads off to a signing session at an Oxford Street store, which brings with it the opportunity to go on one of his vinyl binges: later that evening, he will be spotted being whisked away by car, clutching a pile of old ska reissues and, improbably enough, the new album by transgressive squat-rockers Fat White Family.
COMMENTS
There aren't any comments yet.
Comments are closed.