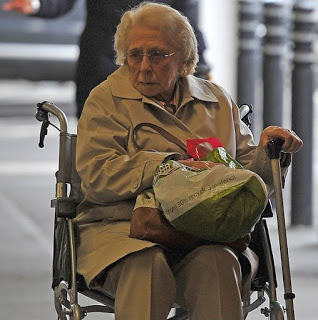 Sir Elton John has ended his bitter eight-year feud with his mother Sheila.
Confirming the pair have put their row behind them, he said yesterday: "We are now back in touch."
The Rocket Man, who has just launched his latest world tour in Paris, hadn't spoken to Sheila since an explosive fall-out in 2008.
And there seemed to be little chance of a thaw recently when she booked an Elton tribute act to perform at her 90th birthday party.
But Sir Elton , 68, says the pair have been back in touch for weeks.
He said: "Out of respect for my mother's privacy, I have always shied away from speaking publicly about our relationship.
"However, I can say that we are now back in touch and have been so since my mother's 90th birthday."
The star added: "I won't be commenting further on this."
Their bust-up was sparked by Sheila's refusal to cut off contact with two of her son's oldest friends, Bob Halley and John Reid, after he fell out with them. Bob had worked for Elton for three decades, first as a driver then later as a personal assistant, before he was fired as part of a series of changes the singer was making to his team.
John, who had been Elton's manager and briefly his lover, helped guide the early stages of the star's £235million career. Sheila explained last year: "I've got used to it. And it was all so stupid – so petty."
She also explained how she blamed Elton's husband David Furnish for turning her son against her.
But it's now understood the filmmaker, who has been with Sir Elton since 1993, has been actively encouraging his husband to make amends. And on Friday Elton told an amusing ­anecdote about his mum on Graham Norton's BBC1 chat show – a hint that the ­relationship might be improving.
Last month it emerged Elton had paid £30,000 for a double hip replacement operation for Sheila, who lives in a seaside house in West Sussex, after she began struggling on her feet.
And new pictures of the 90-year-old doing her shopping in a wheelchair last week show she's quickly got back on the mend after the week-long stay at a private London hospital, to the relief of her family and close friends.
A source said Sheila turning 90 was also a turning point in the feud.
"Enough was enough. It had gone on for a long time which is desperately sad, but he didn't want things to continue downhill," said the insider.
"He decided when she turned 90 things had to change and they've been back in contact. Obviously he was happy to help out with her operation. He wanted to make sure she got the best possible care and did everything he could to ensure that happened.
"Before the fall-out they were incredibly close and hopefully they can now rebuild their relationship."
COMMENTS
There aren't any comments yet.
Comments are closed.