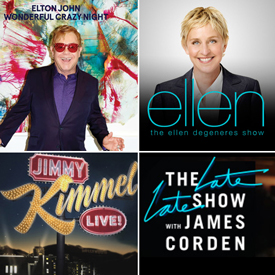 Elton will begin promoting his upcoming album Wonderful Crazy Night by appearing on three US television shows in the upcoming weeks.
The Ellen DeGeneres Show (January 18)
Jimmy Kimmel Live (January 18)
The Late Late Show with James Corden (February 7)
Elton will join James for an edition of Carpool Karaoke that is not to be missed. This program airs following the Super Bowl.
SiriusXM Town Hall With Elton John will run on The Spectrum, channel 28, on Thursday, February 4, at 5 p.m. ET.
At the taping, the pop maestro performed five songs before sitting down for a Q&A: three from his new disc (Looking Up, Blue Wonderful and A Good Heart) and a pair of classics, Tiny Dancer and Bennie and the Jets.
Elton John has a long association with Disney, thanks to his hit musical The Lion King, so it's no surprise that he'll be one of the performers on the upcoming TV special The Wonderful World of Disney: Disneyland 60, airing next month on ABC.
The special highlights the ongoing Disneyland 60th Anniversary Celebration — the theme park first opened its doors on July 17, 1955. Elton will be performing in front of Sleeping Beauty Castle at Disneyland Park, and will treat viewers to a version of "Circle of Life," as well as the title track of his upcoming album Wonderful Crazy Night. Fans watching at home will be able to get involved by using the Disney Applause app, which delivers an interactive experience on your smartphone.
And as if that weren't enough, viewers will also be able to experience the performance in virtual reality, via the Jaunt VR app. It will appear as though you've been transported to Sleeping Beauty Castle for Elton's concert, and to Main Street U.S.A. for a dance performance.
The Wonderful World of Disney: Disneyland 60 airs February 21 on ABC. Elton's new album Wonderful Crazy Night is due February 5.
COMMENTS
There aren't any comments yet.
Comments are closed.