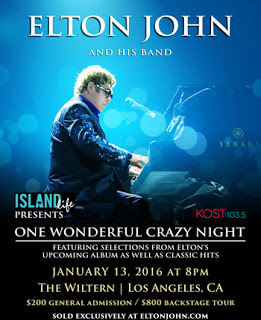 On January 13, 2016 at 8 pm, Elton will take the stage at the Wiltern Theatre in Los Angeles, CA for "Island Life Presents – One Wonderful Crazy Night"
Elton and his band will be premiering selected tracks from his upcoming album, Wonderful Crazy Night, (before its release on February 5) as well as some classic favorites in a 90-minute concert.
As this will be the first time most of these songs are played in front of a live audience.
Tickets are available exclusively through Elton's official fan club www.eltonjohn.com and include a free copy of the album and the option of purchasing a backstage tour including access to a soundcheck and/or radio performance.
COMMENTS
There aren't any comments yet.
Comments are closed.