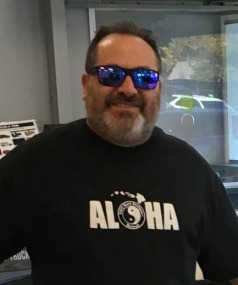 When Elton John arrives in Wellington today, he will be accompanied by tour manager DC Parment, who has been holding the band's purse strings for the past 18 years. He tells about first meeting the larger-than-life star, why touring is fun, and his favourite bands.
Why did you decide to work in the entertainment industry?
I didn't really, the entertainment industry found me … I had no idea it was a career option.
Describe your role and why it's important to the tour?
I'm the tour manager, which means that I handle all of the finances for the tour. People on the tour love me, because I make sure they get paid.
What is something that about your job that would surprise people?
The most surprising thing would be that there's a lot of waiting around in rock 'n' roll.
What is one of your favourite memories of travelling with Elton John?
One of my favourite memories is my first encounter with Elton back in the autumn of 1997, when I first started working for him. He said, "You're the accountant? No wonder you look so nervous." It still makes me smile to this day.
What is the best part of touring with him?
Touring with Elton has allowed me to see world and visit places I never would have gone to otherwise.
What is the best place you have visited on tour?
I would say it would be Hawaii or London.
What are the Kiwi fans like compared to other places?
Kiwi fans are awesome! They're passionate, loyal and loud!
What books do you like?
I love reading rock star autobiographies and biographies.
How about music?
My favourite bands would be Metallica, Van Halen, New Order, AC/DC, Rush, Lynyrd Skynyrd, Led Zeppelin, The Who.
Do you have a favourite song?
My favourite song depends on my mood, where I am and what I'm doing.
What is your favourite film?
It would be the spoof Western movie Blazing Saddles (1974) and golf movie Caddyshack (1980).
If you could invite any four people, living or dead, to dinner who would you pick?
President Barack Obama, Jesus, James Hetfield, who's the lead singer of Metallica, comedian Chris Rock, and Oprah.
What would you serve them, eat and drink?
I'd serve Mexican food.
COMMENTS
There aren't any comments yet.
Comments are closed.