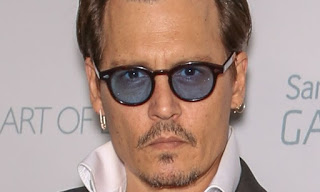 Hollywood star will voice a tiny version of Sir Arthur Conan Doyle's famous English sleuth in followup to 2011's Gnomeo & Juliet
Sherlock Gnomes will see the star-crossed lovers from the previous entry – James McAvoy and Emily Blunt are returning to voice those roles – seeking out the legendary sleuth to help solve the mystery of a string of garden gnome disappearances.
It is not clear if Elton John will once again provide songs for the followup. Gnomeo & Juliet featured the veteran singer's hits Rocket Man, Your Song, Saturday Night's Alright For Fighting and a version of Crocodile Rock with Canadian star Nelly Furtado. The film was developed by John and his partner David Furnish's Rocket Pictures, with the latter also acting as a producer.
Depp, who is expected to be part of the Oscar conversation next year for his acclaimed turn as real-life murderous Boston mobster Whitey Bulger in Black Mass, is no stranger to animated roles. The Pirates of the Caribbean stalwart previously headlined Tim Burton's Corpse Bride in 2005, as well as finding success voicing a pet chameleon who embarks on a wild west style adventure in the well-reviewed 2011 film Rango.
Sherlock Gnomes will be directed by John Stevenson, best known for Kung Fu Panda, and is being set up at studios Paramount and MGM. A cavalcade of British acting talent, including Michael Caine, Maggie Smith, Matt Lucas and Stephen Merchant, helped out with voice work on the original film but there is no word on whether they will return.
Gnomeo & Juliet suffered from middling reviews but scored $193m worldwide on a budget of just $36m.
COMMENTS
There aren't any comments yet.
Comments are closed.