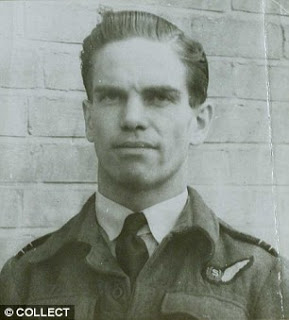 By all accounts, Stan Dwight plays the piano very well. His repertoire doesn't include Elton John hits but his family talk of once hearing him play a version of Your Song that Elton would have been proud of.
Physically, there's more than a touch of Elton John about the man, too, what with the stocky build and spectacles — though he does have a bit more of his own hair.
Put a more flamboyant pair of glasses and a Versace suit on him and he would be up there with any of the top lookalikes. One might say they would pass for brothers.
That is because they are brothers — or, more accurately, half-brothers; Elton and Stan share a father, the late Stanley Dwight.
In different circumstances, Stanley Snr, who married Stan's mother Edna after divorcing Elton's mother Sheila, might have been quite tickled to see the similarities between the two.
Both work in the music business. For the past four years, Stan has been running his own consultancy. Previously, he was the International Financial Controller of the record company Chrysalis, part of the senior management team behind stars like Elton's mate Robbie Williams.
Yet few people working with Stan would know of his family links. Stan and his brothers (yes, there are another three Dwight brothers) are estranged from Elton. Whether the relationship was always fraught is a matter of debate but since their father died in 1991, there has been little, if any, contact.
The Elton John story has always painted the star as deeply affected by his parents' divorce when he was a teenager. Last weekend, he repeated the story in a heart-rending speech to the Oxford Union, saying his father didn't love him and had rejected him in favour of his 'second' family.
Yet, speaking exclusively to the Mail this week, that family paints a different picture, of a loving and supportive father rejected by his famous son.
'I don't know why he is saying these things,' said Edna, 86, 'they are just not true.'
Another brother, Robert, who works for the National Lottery Operator Camelot, described Elton's outburst as 'nonsense', while over in Wales, a third brother, Geoff (who has spoken before about Elton's rejection of their family) was said to be 'furious'.
Stan, meanwhile, has never openly criticised his half-brother, and refused to be drawn on the matter this week. 'The situation is what it is,' he said. A genial, well-spoken man, he seems bemused to have the family resemblance pointed out.
'Do we look alike? If people see that, then they see it,' he says. 'Yes, we have ended up in the same industry but I've very much had my own life.'
Has he ever worked with his famous brother? 'No.'
There is no doubt that the 'situation', as Stan calls it, has been rumbling for decades. As far back as the Seventies, in an explosive interview with Playboy Magazine, Elton portrayed his father, a former RAF squadron leader, as a controlling monster who tried to impose his military sensibilities on his young son, berating him for kicking his football in the garden, for his dress sense and even, oddly, for the way he ate celery.
He described their relationship as 'pure hate' and has continued to say, over the years, that his father did not support his singing career, wanting him to be a banker or civil servant and never came to see him perform. 'Was it homophobia? Was it fear?' he asked, earlier this year.
Elton has also blamed his going off the rails, first in wanting to be as outrageous as possible, then in turning to drink and drugs, on this parental straitjacket.
In his speech to the Oxford Union, he contrasted his relationship with his father to that he has with his sons, four-year-old Zachary and Elijah, two. The boys were born via a surrogate and Elton shares parental responsibilities with his husband, David Furnish.
Speaking of his father, Elton said: 'He was taught that love had limits; you don't show it in public, you don't even show it in private, and if your son isn't quite like you, and he's pretty f****** different from you in fact, then your love becomes cut-off and inexpressible.'
Elton says he has always tried to compensate for that lack of love: 'I've spent my life trying to prove to my father that I was a success. He has been dead years and I'm still trying to prove the point. It stays with you.
'I tried to outrun my darkest secret; that I couldn't love myself. I thought I didn't deserve to be loved, cared for, or present in the world.
'When we had our children, I never stopped telling them I loved them, and they never stop telling me they love me. The other day Zachary said: "I love you all the way up to God." He trots it out on a regular basis, and so does Elijah.
'It means to me that we're doing a good job raising our children, that they feel loved, that they feel tactile love as well as verbal love. They are happy boys and their happiness makes me and David so happy.' Deeply moving, yes, and an insight into the thinking of one of the most complex characters in showbusiness, but is Elton's account of his childhood entirely fair?
Not according to the (second) Dwight family, who are appalled at what they see as Elton's rewriting of history. They argue that, far from being an ogre who almost ruined Elton's life, Stanley Snr was a loving, supportive father who adored the son he had christened Reginald, but whom he knew affectionately as Reggie, and latterly, as EJ.
It was Stanley, they have always argued, who bought Elton his treasured piano, Stanley who encouraged his music career (he had played trumpet in a swing band).
While he may not have approved of his son's flamboyant clothes (what military father in the Fifties would have?) he accepted them and paid for them, setting up an account at a London boutique for him.
How do you untangle two such different stories? Perhaps you can't, given that Stanley Snr is not around to offer his version but it should be noted that, for all his warmth and generosity, Elton has an astonishing capacity to maintain grudges and a long history of falling out with even those closest to him.
There are a number of former acquaintances who are now on the 'estranged' list. Elton hasn't spoken to Sheila, in eight years. It could well be that Sheila Farebrother, who married Elton's father in 1945, two years before he was born, must carry some of the responsibility for the fact Elton has an entire other family he has turned his back on.
In a documentary made by Elton's husband David Furnish, it was claimed that she had told Elton that Stanley did not care about him.
Their divorce, when Elton was 14, was clearly acrimonious and there was deep hurt that Stanley went on to have another family so quickly.
So what is the truth? Elton has always had issues about his father being 'absent', even when his parents were together, claiming Stanley's job meant he missed much of Elton's childhood.
Elton once claimed that his father didn't see him for two years and when he finally came home, to be asked by Sheila: 'Do you want to go upstairs and see him?' he replied: 'No, I'll wait till morning.' The facts, however, do not support this.
As Elton's biographer Philip Norman pointed out, Stanley was on home posting when Elton was born and registered the birth.
For the first 18 months of Elton's life, he was stationed at Ruislip and went home to Pinner every evening.
When, in 1949, he was posted to Basra, he was said to be heart- broken to be apart from his son. For the first Christmas they were apart, he bought Elton an expensive pedal car: hardly evidence of an uncaring father, even if he was absent.
In 2001, Edna gave a long, deeply emotional interview to Philip Norman in the Daily Mail, telling a very different story, every word of which she stands by, she insisted this week. In it, she claimed Stanley had often talked of how much he had missed his boy and continued to do so. In every picture of his room from his military days, there was a photograph of 'Reggie' by the bed.
'Elton has said he felt rejected, but I think Stan was the one who felt rejected,' she said.
She and her son Geoff have, separately, recalled Elton visiting the family home just as his career was going global in 1973. Elton turned up for Sunday lunch, in a white Rolls-Royce. It was a lovely day, they claim.
After lunch, Elton played football in the garden with his young brothers, then played them Crocodile Rock (his latest hit) on the piano, encouraging them to join in with the chorus.
The sight of Elton playing in the garden, and his father's obvious pride in his career, confused the neighbours. They assumed, said Edna, that Elton had bought her and Stanley their home. Not so. Nor had he paid for the private education his four brothers were receiving. It was the result of hard-won scholarships.
The only sizable gift the family accepted was £2,000 to buy a car, and even then Stanley had been reluctant to accept the money. Edna still wishes they hadn't accepted it because it caused rancour when, a few months after that visit, Elton gave an interview to Playboy which included an implication that his father cadged new cars from him.
From that moment, the family was split. Stanley was advised to sue over the Playboy article, said Edna in 2001, but refused to. He also refused, repeatedly, to accept money for interviews giving his side, but Edna believes his health suffered irrevocably due to the stress.
In 1978, when his son was at the top of his career, but on a troubling path paved with drugs, Stanley suffered a heart attack. Three years later, he lost sight in one eye. In 1982, he had a quadruple bypass, which brought him back in contact with Elton, who offered to pay for the operation. Stanley declined.
For a while, it seemed there would be a rapprochement. Clearly keen to build bridges, Elton took his father to the football and promised to visit. The spare room was duly redecorated but he never came.
Elton did have a brief and seemingly cordial meeting with Geoff in 1982, who took it upon himself to tell him how ill their father was. Again in 1991, Edna attempted contact, and Elton responded.
Elton agreed to speak to his father, and Edna recalls Stanley sitting on the stairs of the family home during the conversation, deeply moved.
Yet once again Elton spoke of his 'dysfunctional' childhood in a press interview, sending scores of journalists knocking on the Dwight door. Although his father never gave an interview, Elton was furious at the headlines that followed, and phoned Edna to berate her for airing the family's dirty linen in public.
After Stanley died that December, Elton did not attend the funeral but claimed he'd made peace with his father before his death. 'I only wish that were true,' said Edna.
Elton's four half-brothers lead very different lives. Stan, who lives with his wife Claire and family in a modern detached house in upmarket area of Huntington, Surrey, became the accountant Elton claimed his dad had always wanted him to be.
Simon lives in Cardiff and has a senior role in a civil engineering firm while Robert lives in Kent and is head of public relations for the National Lottery operator Camelot.
Geoff has a more Bohemian existence, living in Ruthin, North Wales, making harps and yurts. He is the only one to speak publicly about being Elton's brother.
Between them, they have quite a smattering of children and are regular visitors to Edna's home. They seem, and this must be a dagger to Elton's heart, very close. Elton's children will know nothing of this side of their family, which is sad.
Quite what Stanley Dwight would make of this awful situation can never be known, but his family clearly feels he would be appalled. Edna has always argued that he loved all his boys equally, whatever Elton now says.
'He never stopped loving him,' she has said. 'When Stan was so very ill at the end, people used to cheer him up by saying: "Well, you've got four lovely sons." "Oh no," he always used to say, "I've got five".'
COMMENTS
There aren't any comments yet.
Comments are closed.