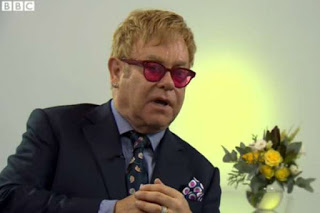 Rocket Man singer who signed Ed to his artist management company has talked candidly with him to deter him from substance abuse.
Elton John steered Ed Sheeran away from drugs by telling him horror stories about being a cocaine addict.
"His stories about drugs put you off," Ed says. "You hear Elton talk about his darkest days and he tells you so you don't have those little moments. He has definitely lived it."
In an interview last year, Ed, 24, admitted he'd taken ecstasy but says he has no regrets about coming clean about it. (He claims he fell in love with a bean bag while using the drug.)
"It may be the wrong way to look at it but it's far more important to be honest," he says.
"I can either pretend to be something I'm not, or I can be myself. If you're in the position of being a role model and go, 'No, I don't smoke', then get caught smoking, it's far worse."
– Mirror
Elton John spoke to Confidenti@l at his foundation's annual gala, but forgot the answer to the most important question made famous by Joan Rivers — who are you wearing?
The singer couldn't remember which designer he had on, so hubby David Furnish looked inside his jacket to reveal it was Chez Alex of Hollywood.
The duo talked about their kids, Zachary, 4, and Elijah, 2, and said neither of them play bad cop when it comes to disciplining the boys.
"We're both fun dad," they said simultaneously, with John adding, "We're strict but not that strict."
"Zachary's at school and Elijah's at preschool," John said, hinting that his musical genius may be influencing his older boy.
"Zachary's having piano lessons, but he asked to have them. I didn't say anything. No, he just knows what middle C is right now. He's not (famed classical pianist) Arthur Rubinstein, believe me."
Furnish revealed the kids saw John perform live for the first time last weekend.
"They'd never seen him on stage do any type of concert before, so they saw the first three numbers of his show in Vegas," he said. "They were kind of overwhelmed in the sweetest way, like, 'Wow, I didn't know Daddy could do that.' So it was really nice."
COMMENTS
There aren't any comments yet.
Comments are closed.