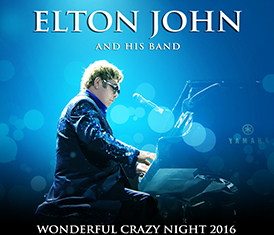 Elton and the band have announced three outdoor shows in the UK for June 2016.
Friday June 10 – Lincoln Showground, Lincoln, UK
Saturday, June 11 – Leicestershire County Cricket Club, Leicester, UK
Sunday, June 19 – Westpoint Exeter, Exeter, UK
Elton and the band will be playing hits and classic album tracks from his incredible career as well as selected tracks from his upcoming album.
This will be the very first time that Elton has performed in Lincoln. "Lincoln is an important stop on this tour," he explains. "My life-long writing partner, Bernie Taupin, grew up very close to Lincoln so it's a sort of homecoming, and one that is long overdue."
COMMENTS
There aren't any comments yet.
Comments are closed.