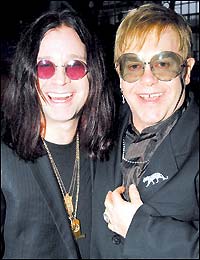 Ozzy Osbourne "would love" to invite Sir Elton John to join him backstage at the Download Festival next year.
The Prince of Darkness has extended an invitation for the Rocket Man to fly over to Donington Park once he has finished his set at the Leicestershire County Cricket ground.
For one day next year, Leicestershire will be the centre of the music universe.
Two of the biggest stars in the entertainment galaxy, who have sold more than 350 million records worldwide between them, are aligning by playing in the county on the same day.
On Saturday, June 11, Sir Elton will knock them for six at Grace Road in Leicester, while Ozzy will be rocking them at the festival near Castle Donington.
Download director Andy Copping, who also promotes Black Sabbath, said Ozzy would be delighted to have Sir Elton join him.
He said: "I know that Ozzy and Sharon are very good friends with Sir Elton and would love to invite him over.
"If Sir Elton's set finishes before Ozzy's, then he would be delighted if he popped across to watch him and the band back stage."
Andy said it was amazing for Leicestershire that two music megastars would be playing in the county on the same day.
He said: "Sir Elton is a huge star and Ozzy and Black Sabbath are not too far behind.
"They are from different ends of the musical spectrum so there is not going to be much, if any, crossover in the audiences.
"I must confess, I would rather see Black Sabbath than Elton John, but that just reflects my personal tastes.
"It is a real coup for Leicestershire to have both gigs on the same day."
Wasim Khan, chief executive of Leicestershire and Rutland Cricket, said the deal for Sir Elton to play at Grace Road came out of the blue just weeks ago.
He said: "We were contacted by his promoter to ask if we would be interested in staging an Elton John concert here.
"It is not every day that such an opportunity presents itself. We contacted the England and Wales Cricket Board to see if we could have a 10-day window where we could avoid playing here.
"Once that was established, we could start to plan the event. It gives us time before and after the concert to set things up and to bring them down again."
Mr Khan said it was real feather in the cap of the city and the county cricket club to stage an Elton John concert.
He said: "We know that Sir Elton is big cricket fan and has played other cricket grounds.
"It will be a fantastic day and we can't wait to pack out the place. It is also great that a star such as Ozzy Osbourne is playing across the county on the sane day.
"The music of Elton John is more to my liking than that of Black Sabbath."
Former music promoter Andy Wright, who used to run the legendary Charlotte pub in Leicester city centre, said the double-header on June 11 was brilliant news for the county.
He said: "The Kasabian gig at Victoria Park showed that Leicester can put on a big gig and make it memorable.
"Download is a given, and it is great that a superstar like Elton John is also playing here.
"You can't beat live music and it's great to see it alive and well in the county.
"Sir Elton is a great artist but I will be rocking at Download with Ozzy."
Leicester city mayor Sir Peter Soulsby said the concerts would bring in visitors to the city and county and help establish Leicester as a location for big-name artists.
He said: "We have shown with the Kasabian concert that we can stage big gigs and cope with the event.
"I missed Elton John when he was in Leicester in 1976 so I am hoping I might get to see him this time around.
"I think I shall leave Black Sabbath for the younger people."
COMMENTS
There aren't any comments yet.
Comments are closed.