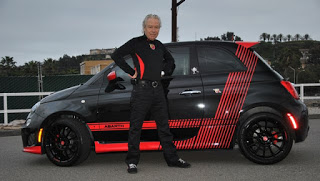 On Sunday, 100,000 fans will head to Circuit of The Americas for an epic battle between Lewis Hamilton and Sebastian Vettel in Formula 1 racing. In addition, the venue has pulled off a post-race coup: After the sport is done, fans can head to the new infield festival lawn to catch a two-hour show from Elton John and his full band.
While race goers will certainly be excited to catch Billboard's No. 3 most popular artist of all time (he trails only The Beatles and Madonna), the band is equally thrilled to play at the event. John's longtime drummer Nigel Olsson calls it a "dream gig," as the 66-year-old racing enthusiast gets the rare chance to combine his dual loves of music and motor sports this week. We caught up with Olsson by phone as he prepared for the band's popular Las Vegas residency prior to the F1 performance.
CultureMap: The Elton John tour schedule is packed — you all are working hard. Why does the group still play so often after accomplishing so much?
Nigel Olsson: It really amazes us all that we're still going after over 40 years. We're still selling out arenas, and audiences range from old people like me down to their children and even little kids. And we see those children singing the lyrics. We're blessed to do this. Every day you turn on the TV and there is war, death, and sickness — the world has woes. Our job is to make people happy and to have them forget those woes for the night. We love to tour, though we're not young anymore, but it's what we're here to do.
CM: Touring is difficult when you aren't 25. How do you cope with the idle time and keeping healthy?
NO: I rest a lot. I eat well. The party days are over! I like to keep up with motor racing, which is my other passion in life. When we're home and off tour, I'll go out to the racetrack and blast around in my Fiat Abarth. It's easy now to keep up with your friends and family while traveling, so I'm a big believer in that. And I just have positive thoughts! That's how you get through.
CM: How did you get involved in motor racing as a passion?
NO: When I was 7, I saw [Sir] Stirling Moss roaring around the track in a Formula 1 race on television. The cars looked like rocket ships, and they had very skinny wheels and no seat belts. I thought, "Wow! That's something I might be interested in." In England, we're all crazy for Formula 1. I took about 10 years when I was away from the band to go motor racing myself. I did the Ferrari Challenge here in the U.S. for a couple of seasons and did some endurance racing as well. It's my other passion. It keeps me focused and keeps me off the streets, basically.
CM: Does that make the Austin show at COTA a highlight of your calendar this year?
NO: I'm so excited to be involved. It's a dream gig to perform after these guys fly around for two hours. I really hope to meet some of the drivers that I look up to. Formula 1 is so big globally, there will be fans in from so many countries we'll get to play to. I'm really interested to see this track. My son went to the first Austin race at COTA, and he's told me that it's a beautiful track that I really need to see. I'm chomping at the bit.
CM: Will you all get to see the race?
NO: I hope so. I've got feelers out, but that's in the hands of our management right now. This is a quick one for us — we're performing in Vegas doing the Million Dollar Piano show Saturday night, so we'll get in Saturday quite late. I'm going to enjoy every single minute either way.
CM: Do you think Americans will ever embrace Formula 1 the way the rest of the world does?
NO: It's an excellent question. The United States Grand Prix was getting popular, but then it stalled. NASCAR and Indy cars and even drag racing are big here, so those series took the Formula 1 momentum away for a while. Hopefully if we can get this Austin race and others on national television in America, I think that would go a long way toward bigger American fan interest.
CM: When you first began to study the craft of drumming, who were your influences and idols?
NO: In the early days, Buddy Rich. When I first heard and saw him play the drums, I thought, "That's what I want to do!" Ringo Starr is another, and he's still one of my favorites — I love that guy. I'd also count Keith Moon (The Who), Ginger Baker (Cream), and Bev Bevan (ELO) as prime influences. It's been many years since I started, though — there are now too many to mention!
CM: There is the impression that in the 1970s, musicians were given more time and freedom to develop their audience and sound as compared to now. The internet and technology has changed that a lot. How do you feel about all the change?
NO: Things have changed so much. The technology available has made it so much more challenging for up-and-coming drummers. Personally, I don't like this "programming" situation. It takes away from the heart of playing music. Drummers can add light and shade. The way I play is a bit behind the beat, which wouldn't sound like programmed stuff. It just feels weird to me — even when we recorded, I never wanted to listen to a click track. You play to the song. When I play with Elton, I play to the low end of his piano and to the lyrics. I'd class myself as a descriptive drummer, not a technical one. I can't do a drumroll, so God forbid that I'll ever have to play "God Save the Queen." I'd be sent off by the Queen to the Tower of London!
COMMENTS
There aren't any comments yet.
Comments are closed.