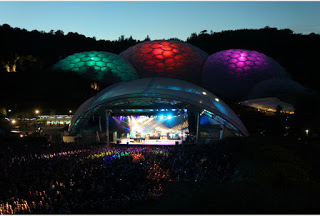 British rock legend Elton John will perform the post-race show at the Formula 1 United States Grand Prix this October. The announcement was made via press release from the Circuit of the Americas (COTA) in Austin, Texas.
According to COTA, Elton John & His Band will play immediately following the U.S. Grand Prix on Sunday, October 25, 2015. Race fans will hear a two-hour set that will include the hits they know from John's five-decade career. John's hits include songs like "Your Song," "Daniel," "Rocket Man," "Yellow Brick Road," "Candle in the Wind," "Crocodile Rock," and many more.
The concert will take place on the new festival lawn in the Circuit's north infield. Musicians important in John's career will also be on hand including Nigel Olsson on drums (part of Elton's original three-piece band) as well as musical director Davey Johnstone (who first recorded with Elton in 1971 and joined the band full-time a year later) on guitar, Matt Bissonette on bass, John Mahon on percussion, and Kim Bullard on keyboards.
Jason Dial, President and CEO of COTA said, "Our goal is to create a must-attend weekend this fall in Austin, Texas, by fusing music and art with local and international sport into Austin's energetic nightlife." He continued, "Adding legendary superstar Elton John & His Band to an already packed race weekend at Circuit of The Americas, along with POP AUSTIN International Art Show, Fan Fest downtown and a University of Texas Longhorn football home game, will prove to be an epic sport and entertainment weekend."
Three-day and Sunday-Only tickets for the race weekend at COTA, October 23-25, 2015, are now available online for purchase at the track's website. In addition to the international race series coming to town that weekend, Austin will also host music (of course) at Fan Fest downtown and an art show, POP AUSTIN.
The art show will host a satellite exhibit at Circuit of The Americas. The showcase at COTA will be available for the enjoyment of all race goers and will feature collection of fine art, including pieces from Andy Warhol, Jean-Michel Basquiat, Richard Orlinski, Desire Obtain Cherish, Shane Guffogg, Micky Hoogendijk and others.
Managing Director of Circuit of the Americas, Sharilyn Mayhugh said, "Having POP AUSTIN International Art Show's presence is a distinct honor! Their involvement is a great indicator of Austin's ever growing cultural influence and international appeal." More information on the art show may be found at the event's website.
The U.S. Grand Prix will be the 16th race weekend of the 2015 calendar for the Formula 1 series. The following weekend, drivers and teams will travel south to the Mexican Grand Prix, the first one in that country in some time.
COMMENTS
There aren't any comments yet.
Comments are closed.