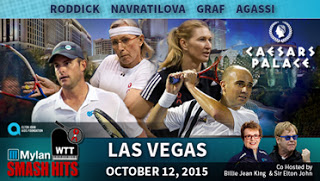 On Monday, October 12, tennis stars Andre Agassi, Stefanie Graf, Martina Navratilova, and Andy Roddick will headline Mylan World TeamTennis (WTT) Smash Hits at Caesars Palace, a charity night of tennis co-hosted by longtime friends Elton and Billie Jean King.
Last year's event in London raised more than $1 million, bringing the historic total to more than $13 million for the Elton John AIDS Foundation (EJAF) and various local AIDS charities since 1993.
Tennis action is set for 7 pm PT. The pre-match VIP Reception and Auction will kick off at 5:30 pm. Tickets go on sale at 10 am PT on July 23rd on axs.com. For information on group sales and VIP ticket packages visit the Mylan WTT Smash Hits website.
Special VIP ticket packages, including VIP courtside seating and admission to the VIP Reception and Auction, will also be available and will directly benefit Aid for AIDS of Nevada. Elton, Billie Jean, and all players will participate in the pre-match live auction, which will include an Elton John signed piano bench and King's Wimbledon tickets among other items.
"It is always such a great pleasure to co-host this wonderful event with my dear friend Billie Jean King," said Elton. "I'm so pleased that we will be teaming up with Aid for AIDS of Nevada to raise awareness about the continuing challenges of the HIV/AIDS epidemic both locally and nationally and to raise urgently needed dollars for community-based HIV prevention, education, treatment, and care services. I urge all tennis fans and concerned citizens in the Las Vegas area to support this event and bring their families for a wonderful evening of tennis for a great cause."
"It is great to have Mylan WTT Smash Hits back in the U.S. and even better that we are making our first trip to Las Vegas, the entertainment capital of the world," said Billie Jean King. "Smash Hits is one of my favorite and most meaningful events of the year and we are looking forward to a successful and entertaining night this October at Caesars Palace."
COMMENTS
There aren't any comments yet.
Comments are closed.