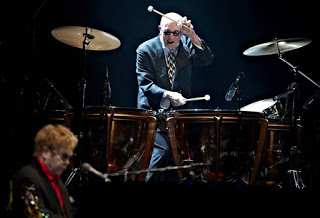 According to Davey Johnstone, Ray Cooper, percussion genius, will be supporting Elton John for the upcoming Final Curtain tour.
Davey says 'Ray will be there and we have some very cool ideas [for the show and setlist]'. Ray has been a fixture at The Million Dollar Piano concerts in Las Vegas and sporadic shows in certain locations like Dubai, Europe, Mexico, South Africa and Hawaii. This will however be the first large scale tour Ray has performed for some time.
The Final Curtain Tour begins in Sioux Falls, South Dakota on October 2. The Final Curtain Tour allows fans in smaller markets to say goodbye to Elton and the band one last time. Larger cities will be added to the tour over time. Elton is gradually reducing touring to enable him to spend more time with his family.
COMMENTS
There aren't any comments yet.
Comments are closed.