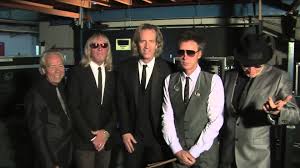 Superstar Elton John will be a magnet for music fans across the South East when he plays a huge open-air gig in Kent this weekend.
There's not long to wait now, as the multi-million selling singer takes to the stage at Kent Event Centre, near Maidstone, on Sunday, May 31.
The concert will be the first time Elton has appeared in the county since a sell-out show at Canterbury's St Lawrence cricket ground in June 2006.
When the band strikes up hits and album tracks from across his five-decade career, including a selection of songs from the classic Goodbye Yellow Brick Road album, Elton, 68, won't be the only band member on-stage who was present first time around.
Far from it; long-time friend and drummer Nigel Olsson and guitarist/musical director Davey Johnstone have been with Elton for the long haul, as they told What's On…
FAMILY THREE
Drummer Nigel Olsson started his music career as a member of the group Plastic Penny, who had a hit with Everything I Am and achieved three hits as a solo artist in the 1970s with Put On Your Dancing Shoes, A Little Bit of Soap and a cover of the Bee Gees song Only One Woman. This led to him rubbing shoulders with Elton and Bernie Taupin from 1967 and he was invited on board by Elton for a promotional gig at Camden's Roundhouse for the 1970 self-titled album, Elton John.
"It was instantaneous," says Nigel of his musical connection with Elton. "It was so refreshing, it was the type of music I wanted to play. There was no one who was so different from everyone else."
The friendship and professional relationship was sealed and Nigel, originally from Merseyside, remained on board throughout the 1970s and into the 1980s.
He left Elton's band for a period to pursue his personal passion to go motor racing with Ferrari, Ford and Aston Martin and became qualified as a racing instructor, then rejoined Elton's band for the One Night Only concerts in 2000.
As a result of sharing their lives both as bandmates and friends, Nigel, Elton and the band are close.
"It's a family, especially with Elton and Davey and I," says Nigel, 66. "We have our lives outside when we are not touring or recording but it's a family and that's the way it should be."
The high point among many for Nigel was playing Madison Square Garden in New York in 1974, when John Lennon came up on stage with the band.
"It was such a joyful moment to see him up there. The audience gave him an eight-to-10 minute standing ovation," remembers Nigel.
The joy that working with Elton continues to give Nigel is clear. "He's one of the kindest, hugest-hearted people I've ever known in my life. There's no one else I know that is that overwhelmingly wonderful to everyone.
Nigel adds: "I'm still having a blast. It's so great being with this band and still selling out venues everywhere – we are blessed. Our audience is from young kids to grandmas and grandads, which amazes me every time."
Just as the fans have their favourite numbers, so does Nigel. The crowd goes wild for Crocodile Rock and Saturday Night's Alright for Fighting but Nigel says: "I'm more of a balladeer, I'm a big romanticist. The song that gives me a shiver would be Goodbye Yellow Brick Road, Candle in the Wind or Someone Saved My Life Tonight."
And there's no fussiness going on backstage as some might imagine. "As long as there's PG Tips," jokes Nigel. "We are not that high maintenance at all."
HARD ROCK
Davey Johnstone became a full-time member of Elton's band after playing on the 1971 album Madman Across the Water, which contained the hit Tiny Dancer. From day one "it was obvious there was some chemistry between us," says Davey.
Of the mysteries of the group's dynamics, he adds: "It's a magical chemistry, similar to the sort of thing that happened to The Beatles. You develop a friendship that's like a brotherly thing. I don't know how it happens but I'm glad it did."
But there's no mystery behind the band's ongoing success. "We go out and play and every single night it's special – we bring it to the audience every night. You have to bring your best game every time, that's always been our ethic."
It's not hard to be inspired when you're looking to Elton for an example, says Scotsman Davey, 64.
"Elton is the best rock and roll piano player on the planet, period. Elton's full of life and he's just an over-achiever, so you've got to keep up with what he's wanting to do. It's not just a safe hit kind of show, we change it up every night and we rock hard. I have the same feeling I did in the 1970s when you think, 'This is great, people are going to love it!'"
Davey enjoys the fact the music has such wide appeal, including to young people, today. His own daughter Juliet, a 19-year-old art student in New York, accompanied him to a music festival in Tennessee and when asked after the trip what she had enjoyed, she replied: "The Flaming Lips were great and the DJ tent but you guys blew everyone away!"
Davey adds: "It's been a great run and it's still a great run – we are spanning several generations." The band focus on those great vibes to get prepared ahead of a concert performance such as Sunday's.
"In the afternoon before a show I will sit down and I'll pray and write some things in a journal about how grateful I am about the career we've had. That sets me in the right frame of mind," says Davey. "Elton always comes in and we usually spend 15 to 20 minutes just laughing about stuff and getting in a good space. Elton's an intelligent man with the smartest sense of humour."
COMMENTS
There aren't any comments yet.
Comments are closed.