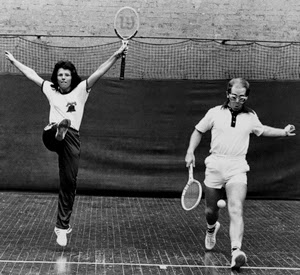 In February 1975, Elton released Philadelphia Freedom – a song that was not available on any album and would not be until its inclusion on Elton John's Greatest Hits Volume 2 in 1977.
The stand-alone single, his second in a row following Lucy In The Sky With Diamonds, entered the Billboard Hot 100 charts at #53 on March 8. Five weeks later it reached the #1 position, where it stayed for two weeks, and spent a total of five months on the chart overall.
Written on the label of the vinyl 45 RPM single were the words, "with Love to B.J.K. and the sound of Philadelphia." Fans who wanted to decipher the cryptic first part of this dedication would have to go back 17 months to when one of the world's most popular musicians first met one of its most successful tennis players.
In September, 1973, Elton was in the midst of a sold-out tour of the United States and was about to release what would be his most successful studio record ever, Goodbye Yellow Brick Road, which would become the third of a total of six consecutive US #1 albums (and second of three UK #1s) for the superstar.
Billie Jean King had been ranked the World Number 1 women's player five times over the past seven years and was just coming off her fifth Wimbledon singles championship during that same stretch. Perhaps most importantly, in two weeks' time she would alter the gender perception of professional tennis with her victory against Bobby Riggs in a highly-publicized "Battle of the Sexes" exhibition match.
Forty years to the week after Philadelphia Freedom held the top position on the Billboard chart, we spoke with Billie Jean King about the origin of their friendship, which remains as strong as ever and has resulted in the annual Smash Hits celebrity tennis fundraiser for the Elton John AIDS Foundation, and what is perhaps the only hit single inspired by a tennis icon.
EltonJohn.com: How did you and Elton meet?
Billie Jean King: [Promoter] Jerry Parencio threw a party two weeks before the King/Riggs match in September of '73 in LA. When I got to the party I said, "Jerry, it's great to see you…what's this party for? Is it for you?" And he said, "Oh no, it's for Elton John." I said, "Elton John?? He's my favorite! Are you kidding?" And of course it brought back memories of when I first heard Your Song in 1971, I think. I was driving the hills of San Francisco, on Van Ness Street. I remember having to pull over to listen to it. I love anything with anybody playing keyboards. And of course on top of that he can sing unbelievably well. So I fell in love with Elton and Your Song and I had all his albums up to that time.
So we're at the party. Elton's across the room from me. He keeps looking at me…I keep looking at him. And finally Tony King, who actually is still with him, comes over and says, "This is ridiculous. Elton's been dying to meet you all night but he's too shy." And I remember I looked at Tony and said, "Ditto." (I don't know why I used that word, maybe it was "in" at the time.) So Tony says, "Come with me…" and I get up and he sits me across from Elton and says, "Elton this is Billie. Billie this is Elton. Okay…now…talk!"
So we started talking and we hit it off. And of course this is near the end of the party, by the time we got around to it. So as we're leaving Elton says "When are you going to be in England next?" And I say, "Not until June…leading up to Wimbledon…" And I thought, "Yeah, nice meeting you, but…"
EJ.com: Like, "I'll never hear from him again…"
BJK: Right. But fast-forward nine months and I get to the Gloucester Hotel in London and there's a note waiting for me from Elton. I don't know how the heck he found out where I'd be staying. The note said, "Please call me." And I almost didn't call. I was too shy. Finally, I did. That night. I thought if I waited any longer I'd definitely not call. So I said, "Hi, this is Billie…how are you doing…what's up?" And he said, "What are you doing tonight?" So I go, "Well I just got in, I'm not doing anything tonight." And he said, "Well, can I come over?" "Sure, come on over."
So he comes over in his Rolls Royce with the 28 speakers and he says, "What should we do?" I said, "I don't care. Whatever you want." He said, "Well, I don't wanna be in the hotel, let's just sit in the car and talk." And of course he had the music playing the whole time, which was great. We probably talked until 3 or 4 in the morning. We just hit it off: he loves tennis…I love music…
EJ.com: How did Philadelphia Freedom come about?
BJK: In the summer of 1974 we were driving to one of his concerts and he looked over at me in the back of the car (I can remember, he was on my right) and he said, "I want to write a song for you." Of course I didn't think I heard him right. I turned scarlet red, I'm sure, and went, "Oh please. What??" And he goes, "No, I want to write a song, what are we gonna call it?" And I said [exasperatedly], "I don't know!" Then he went, "How about 'Philadelphia Freedom'?" Because I played for the [World Team Tennis] Philadelphia Freedoms and he used to come watch our matches.
I remember I got him one of our uniforms, made by Ted Tinling, our designer, who was English as well. I had Elton fitted at a hotel, and he would come to the matches and sit on the bench in his uniform and he'd just go nuts and scream at me to do better. It was hysterical! It was great. He was really intense…so enthusiastic.
EJ.com: He is a wild sports fan.
BJK: Yeah. He also loves soccer (football in England). He gets so excited if Watford or one of his teams do well. I've watched him watch a game (he doesn't know I'm there) and he doesn't move. He gets quiet and just watches. And then when they get a goal he jumps out of his seat and starts running around the room going, "Yeah! Yeah!"
EJ.com: So calling it 'Philadelphia Freedom' appealed to you?
BJK: I was thrilled. I said, "That's great. It will be a great gift to the people of Philadelphia." And the timing was perfect because of the Bicentennial being just the following year [from the song's release]. And I love the word "freedom." I would say it is one of my all-time favorite words since I was a child. I remember talking about freedom in elementary school. And I am the one who named the team the Philadelphia Freedoms. And then in 2009 I got the Medal of Freedom from President Obama…it just goes on and on. Elton says the reason why the song works so well is because "Philadelphia" is iambic.
EJ.com: Do you recall when you first heard the finished song?
BJK: He wrote it in Caribou. He came down the mountain and we were playing a playoff game in Denver [the Philadelphia Freedoms played the Denver Racquets on August 25, 1974] and he said, "I want you to hear the rough mix." I thought, "Oh my god, the rough mix is done already?" And he said, "Now…it's just a rough mix…" He was so nervous. I said, "Elton, I'm sure I'm gonna love it, don't worry!" And I said, "Do you mind if I have the team listen with me?" And we're in the locker room…not real spiffy…and he put it the cassette player on the trainer's table and I loved it within the first three notes. I love "the sound of Philadelphia" – we'd talked about that already, so he really went out of his way to get people from Philadelphia to arrange it. He said, during the part where he goes "Philadelphia"…"That's you getting upset with an umpire." [laughs] Walking up to the umpire…stomping: "PHIL. UH. DELphia." I was laughing so hard. Leave it to him to have to teach you about his song, you know?
I said, "I don't like it, Elton, I love it, love it, love it." He said, "We don't have to understand what the words mean…" and I said, "It doesn't matter. It's the emotion of it."
EJ.com: So the first time you heard the song, you weren't wondering when it was going to start being about tennis?
BJK: We didn't want it to be anything about tennis. No, it's a feeling. It's a great song for a team. It's a great song if you're not a team. The people in Philadelphia go, "That's our anthem." And half the time they don't know the back-story. When I go to Philadelphia, which is often, sometimes you'll hear it in the background ­– on the radio. And they'll say, "Oh we love this. It's the anthem to Philadelphia." And then someone will go, "Well, did you know…?" [laughing] And then I'm asked to tell the story.
When the song crossed over into R&B and it became a #1 single as well, that made his day. He sent me the 45, framed, with the picture sleeve in the back and the Billboard sheet from the week it went to #1. And on the 45 label it says "With love to B.J.K." I still have that at home, it's really nice.
EJ.com: You and Elton remain very close friends and collaborators. In a recent interview, Elton said that you continue to inspire him to do greater things.
BJK: All I can say is…"ditto."
COMMENTS
There aren't any comments yet.
Comments are closed.