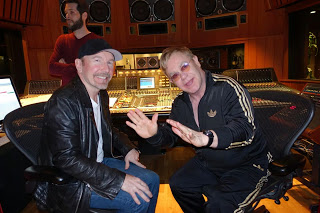 Elton John's life is set to be made into a West End musical after years of anticipation.
The 68-year-old singer's huge body of work will form the soundtrack to Rocketman the musical, with writers behind Billy Elliot billed to produce the show.
It will open in Broadway before arriving in London's West End, insiders have revealed.
The show will take the same name as the forthcoming biopic Rocketman starring Tom Hardy, but will not open until the film has been released.
Among West End legends enlisted to help with production is writer Lee Hall who was behind the hit musical Billy Elliot.
'It's in the works right now,' producer Sally Greene, who runs the Old Vic Theatre, told told The Sun.
'It will be called Rocketman but we will do the film first.
'It will open in Broadway before London. It will be Elton's back catalogue … he will never end his career.'
A spokesman for the star this morning said the project was 'way, way off' but said 'lots of exciting things' were to in the works.
It comes after Hollywood heartthrob Tom Hardy told of his nerves at undertaking the central role in a film about the singer's life.
COMMENTS
There aren't any comments yet.
Comments are closed.