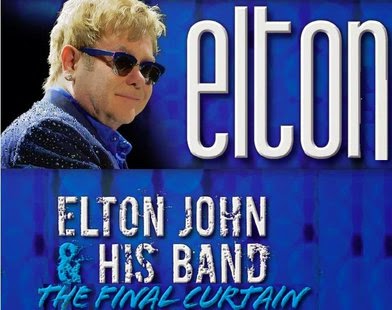 Elton and the band will say farewell to Sioux Falls when they play the Denny Sanford PREMIER Center in Sioux Falls, SD, USA, on Friday, October 2 as part of The Final Curtain Tour.
After more than 4,000 concerts and a career spanning over fifty years, Elton is now slowly bringing the curtain down. "The simple truth is I want to spend more time with my family and less time touring," said Elton. "I am all too aware of how precious the time ahead is. My sons are growing up so quickly, their early years are just flying by and I want to be there with them. So this final Sioux Falls concert will give me one last chance to say farewell to my fans here who have been so faithful over the decades."
Music legend Elton John will perform his second, and last, show in Sioux Falls this fall when he comes to the Denny Sanford Premier Center for a concert Oct. 2.
The six-time Grammy Award winner and Rock and Roll Hall of Fame inductee played to a sold-out Sioux Falls Arena in 2007, and organizers will aim to repeat that feat at the new venue.
"We're going to try and break it again," tour manager D.C. Parmet said. "Elton is really competitive. He always likes to break records, set records, whether it's attendance, or fastest sellout, or whatever."
Tickets cost $199.50, $139.50, $79.50 and $49.50, and will go on sale at 10 a.m. May 8 at the box office, online through www.ticketmaster.com.
"It has been a huge year of concert announcements to date, but to have this entertainment legend as part of our inaugural year is icing on the cake," said Chris Semrau, Denny Sanford Premier Center assistant general manager.
The show will feature songs from across John's career, said Parmet, who has worked for Elton John since 1997.
"Elton John is in the fabric of everybody's life," he says. "Even after 50 years of making music, people still love him and turn out to see his live shows."
Fans can expect a full show, with John performing a three-hour-plus set list he'll make up before the show.
"Elton usually puts together the set list a couple days before the show," Parmet said. "He likes to challenge himself and the band.
"You have to make it special for each individual show."
The Sioux Falls stop will be the first on a swing through the Dakotas, Montana and the region that the artist is calling "The Final Curtain." And while that sounds, well, final, John will continue to tour, just far less and only in larger markets. With two sons younger than 5, Parmet says John will be spending more time at home.
"Make no mistake: he'll still be touring," Parmet said, "but he's slowing down his schedule."
Parmet said he remembers the 2007 show fondly, and John and the entire crew will not be holding back on this last stop.
"I remember that the crowd was amazing," he said. "That's usually the case in markets like Sioux Falls; the crowd is often much more loud and more appreciative. This is our one night. We're going to be somewhere else on Oct. 3 and want to deliver the best possible show to Sioux Falls."
COMMENTS
There aren't any comments yet.
Comments are closed.