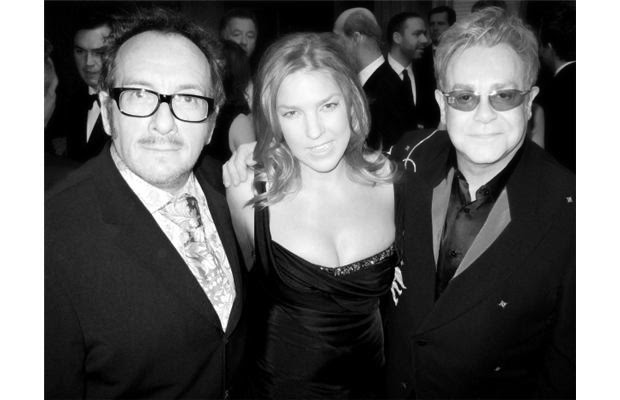 Singer Diana Krall recalls how Elvis Costello literally "fell for her" during a duet in the early days of their courtship. However, Costello fell off the stage in the process, due to extremely tight shoes.
Elton John was trying to set Diana up with Elvis Costello on the night in question, as recalled by the Canadian jazz singer and pianist on the ABC radio programme, RN Afternoons.
"'We were just courting and had just met each other, and Elton was encouraging us. We were performing together on an old stage and Elvis had on very new, very modern and pointy shoes. He leaned back to sing the high note and all of a sudden I couldn't see him anymore. He literally fell for me. We've been together ever since."
In 2013, Costello declared that he would concentrate on being a father to his sons with Diana Krall and just do occasional concerts when he needs the money. "That's it," he said at the time.
Costello and Krall were engaged in May 2003, and they married at the home of Elton John in December of that year. This was the third marriage for Costello. The couple have two sons, Dexter Henry Lorcan and Frank Harlan James.
The mellow-voiced Canadian musician has sold more records than any other female jazz musician in the past 30 years. She has nine gold, three platinum and seven multi-platinum albums to her name.
Her latest album, Wallflower, sees Krall investigate pop faves of her own from the 1960s and 1970s top 40, including The Eagles' Desperados, Mamas and Papas' California Dreamin,' Sorry Seems to Be the Hardest Word by Elton John and a particularly intuitive I'm Not In Love, 10 CC's mega hit.
She handed the production duties to 16-time Grammy winning pop producer David Foster, which worked very well for her. But there were some anxious moments in the studio.
"There was a few door slams, and I wasn't the only one slamming the door," says Krall. "It certainly wasn't over the lunch menu, I think it was over how many jazz chords should be in a song."
Krall is still bowled over that she has been able to make her passion into her profession. "I still feel like I'm a 16-year-old kid saying "I get to do this!"'
COMMENTS
There aren't any comments yet.
Comments are closed.