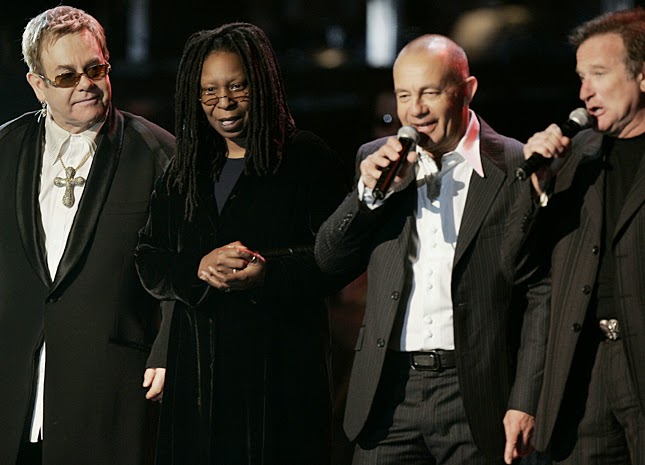 What a loss, what a wonderful sweet man. In the limited time that I spent in his company thankfully none of his demons were present, just the boundless energy and relentless good humor that endeared him to the world.
I can't think of Robin without recalling the last time I saw him at a birthday party in 2007.
My wife and I were seated next to him along with about ten people including Whoopi Goldberg and Kiefer Sutherland. As Kiefer approached the table the lone voice of Robin could be heard above all others exclaiming "Jack Bauer you're alive!" From then on it was as if he was determined to take no prisoners and for the next hour it was the Robin Williams show. I can honestly say I have not laughed so hard in my life, crying, hardly could breathe laughing to the point that I had to beg Whoopi to ask him to stop.
This was a man who could take an item on the menu or an inanimate object and find the most absurdist hilarity in it, cutlery and blue foot chicken take a bow.
He was one of a kind, an American original, and my family and I are profoundly sad at his passing.
I pray he's found peace and that he spreads joy and laughter among the angels.
COMMENTS
There aren't any comments yet.
Comments are closed.