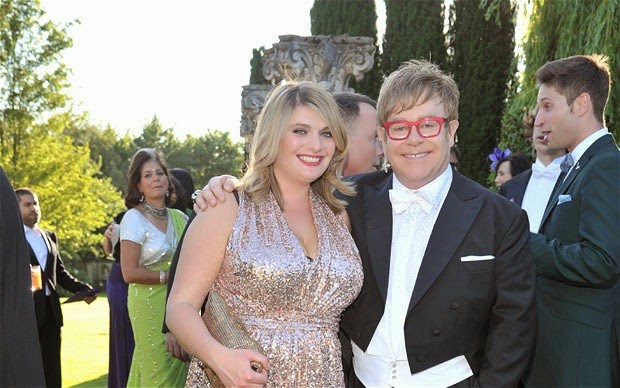 Disaster in Windsor! The country's poshest portable loos have become blocked, causing much consternation among the female guests at Sir Elton John's White Tie And Tiara Ball. "It's like Glastonbury," wails one lady, dripping in diamonds. "This happened last year," says another woman, who turns out to be Dame Shirley Bassey. "I led an advanced guard to the men's loos. I said 'Women coming through!'. But I don't think I've had enough champagne yet to do that this time."
Do I detect a hint of disappointment among the scores of ladies crossing their legs under their floor-length gowns, the actress Naomi Watts included? It would be fun to be part of Bassey's Barmy Army, marching on the gents' lavatories like a group of sequinned soldiers. Instead there is a hunt for a plumber, or at the very least a plunger and a pair of Marigolds. But there aren't many plumbers around here. Hollywood actresses, comedians, models, television stars, platinum-selling musicians, yes. But plumbers? Well, they're a bit thin on the ground.
There aren't any journalists here either – or at least not any coming clean. The invitation to the event came with a clear warning on it: no press, working or otherwise, will be let in without authorisation. To secure my place on a table, or in the queue for the blocked ladies' loos, I must first agree to a set of conditions. Will I have to ring a bell, like a medieval leper? Wear a fedora with a press card tucked in its brim? Mostly, they just don't want me to scupper the mega-bucks deal done with OK! magazine, which donates large amounts to the Elton John Aids Foundation for the privilege of being allowed inside its summer ball. Thus, the Telegraph cannot print the names of the celebrities who sit on the OK! table, or any pictures of them, though this is sad only if you happen to be a fan of reality television and women who like to pose in their underwear.
Sir Elton's ball is now an integral part of the summer calendar. The singer hosts it every year in the grounds of his £20 million home in Old Windsor. Bill Clinton, Lady Gaga, Elizabeth Hurley, Will Smith, Anne Hathaway, Kirsten Dunst and the Duchess of York have all stepped on his fabulously manicured lawns for the rock and roll society event of the year.
Tonight it is my turn, though my heels don't so much step on the lawn as sink into it. As is fitting for a man who once admitted to spending £293,000 a year on flowers, Sir Elton's gardens are beautiful. And there are a lot of them: there are the White Scented Gardens, the Italian Gardens and then the Secret Garden (how many gardens does a man need?). This doesn't include the 18th Century Orangery, the Roman Terrace, the lake, the tennis courts, or Elton's own pet cemetery that one must pass before dinner.
There are sculptures by Antony Gormley, to be auctioned off later in aid of the charity, and a life-size replica of a 1960 Cadillac DeVille coupe, made from 1,500 plants and 300 boxes of moss. It took 700 hours to make, and was created especially for tonight's Motown-themed ball. In the giant marquee erected in the grounds, hits by the Temptations, the Four Tops and the Supremes play over the tables set for 550 hungry guests, who will eat dishes such as caesar salad "revisited", and records made of chocolate. The menu is notably low in carbs. There is a dancefloor that revolves. Later, Smokey Robinson will play.
An Elton John party must be the only place one can turn up looking like a Christmas decoration and still feel under-dressed. There is a man who appears to have come as a peacock, the tails of his jacket becoming fabulous feathers. Sequins stretch for as far as the eye can see. It is a surprise that the guests are not swept upon by magpies. Then again, this whole event is held in conjunction with Chopard, the luxury jewellers who create pieces most people would have to remortgage their house for. Such is their exclusivity that, at one ball, Kate Winslet and Kevin Spacey ended up fighting on stage over an auction lot that featured a watch the company had specially created.
Tonight, the great and the good include George Michael, Grace Jones, Stephen Fry, Trudie Styler and Lizzie Jagger, who will spend much of the evening being twirled around the dancefloor by the gallery owner Jay Jopling. David Walliams arrives with his wife, model Lara Stone, though it is their pet border terrier that steals the show, dressed as it is in a satin tuxedo.
Florence Welch of Florence and the Machine mooches quietly around with her boyfriend, while the singer Beth Ditto has to be helped along in her heels. Everywhere you go there are celebrities, or people who look like celebrities. "Are you famous?" I hear a man asking a woman in a diamante gown. "No," she says, "I'm just a mum." The man turns his back on her, his interest piqued by the sight of Holly Valance hanging off the arm of her fiancé, the multi-millionaire Nick Candy.
Money is everywhere. If Europe is in financial freefall, then in the grounds of Sir Elton's Old Windsor home it is like the last days of Rome. During the auction, which raises over £4 million for the foundation, guests bid for a trip to Las Vegas to celebrate David Furnish's 50th birthday, an Audi signed by the actor Tom Hardy and a selection of hampers that contain (deep breath)… iPads, membership of the Ivy Club, a holiday to the Seychelles, luggage to take with you on the holiday to the Seychelles, designer handbags, designer sunglasses, designer shoes and even designer dinner plates.
Back in the loos, there are make-up artists to tend to the faces of any guests who might need a little bit of… well, let's call it assistance. And, thankfully, someone seems to have found a plumber – the blockage that had so troubled Dame Shirley and Naomi Watts has been sorted out once and for all. There is probably a lesson to be learnt here: that you can have all the gardens and jewels and luxury holidays in the world, but sometimes all you need is a plunger.
COMMENTS
There aren't any comments yet.
Comments are closed.