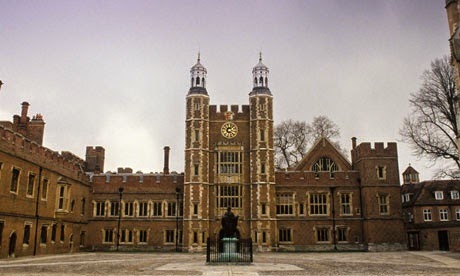 Elton John has always liked the finer things in life, and it seems he is determined that his sons don't miss out either – starting with their education.
The music legend and husband David Furnish have enrolled three-year-old Zachary Furnish-John at a smart feeder school for Eton, seemingly with a view to sending him to the £34,000-a-year school that has educated royalty and Prime Ministers since it was established in 1440.
As David explained to me last week: 'It is close to our Windsor home and all the Old Etonians I've met are the sort of men who can go anywhere and converse with anyone.
'They are not at all snobbish, and they are wonderfully talented – which is definitely what we want for Zachary and [younger brother] Elijah.'
If Zachary does go to Eton, he will know exactly how to sport the tails the pupils are required to wear as uniform – after all his father hosts the legendary White Tie and Tiara ball each year.
David, 51, also revealed that he and Elton, 67, take parenting tips from their best friend Liz Hurley, whose son Damian is one of Elton's many godchildren.
Speaking to me at a GQ dinner in Soho, he added: 'Elton and I have to travel a great deal, so we've hired a new nanny of the highest calibre to look after the boys.
'Liz says children thrive on routine and emphasised this to us by saying as long as they stick to a programme, they are fine.
'Liz said that when Damian was small, she'd have to go to New York for 48 hours for shoots and she'd leave him at home with a nanny because it was kinder than upsetting his sleep patterns.'
COMMENTS
There aren't any comments yet.
Comments are closed.