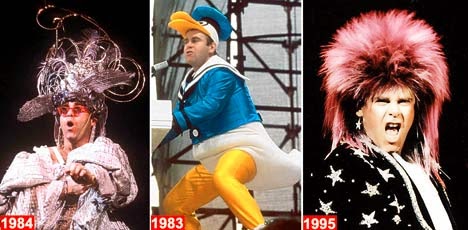 These days, Elton John has toned down his look considerably, but back in the '70s, he was all about feathers, glitter, sequins, platform boots, sparkly eyeglasses and other glam accessories. But when asked to name his favorite stage costume, he picked one of his most unglamorous get-ups ever: one that literally made him look like a cartoon character.
Speaking to the Newcastle Chronicle, Elton says, "I love the stage wear that I have now, but…the first thing that comes to mind is the Donald Duck costume I wore in Central Park in 1980. It was so hard to get into! I was frantically putting my hands in the feet and my feet in the hands while the crowd was waiting for an encore."
The blue, white and yellow outfit featured a hat that looked like a duck's bill, yellow legs and feet, a sailor-style top, and a huge white tail, just like the Disney cartoon character. A variety of YouTube videos show John in action, performing in the ridiculous outfit.
Asked by the publication to name his most memorable career moment, the Rocket Man chose one that also took place on a stage in New York City: Madison Square Garden, to be exact.
"If I had to [pick one moment], it would be the night that John Lennon came on stage with us at Madison Square Garden in 1974," Elton recalls. "It was his last public concert, although of course no one knew that at the time, and the ovation he got was something I will never forget."
That legendary appearance took place on November 28, 1974. It came about because Lennon had promised John that if their collaboration, "Whatever Gets You Through the Night," reached #1, he'd join him onstage. In addition to performing that song, Lennon also sang "Lucy in the Sky with Diamonds" with Elton, as well as "I Saw Her Standing There." Lennon never performed in public again; he was murdered in 1980.
Looking ahead, John, who's currently on tour in the U.K., tells the paper, "We have lots of plans for this year and the future. I will continue to tour through the year in the U.K., Europe and North America. There is a movie being made about my life, starring Tom Hardy. And I have other projects in the works, but I shan't spoil all the surprises!"
COMMENTS
There aren't any comments yet.
Comments are closed.