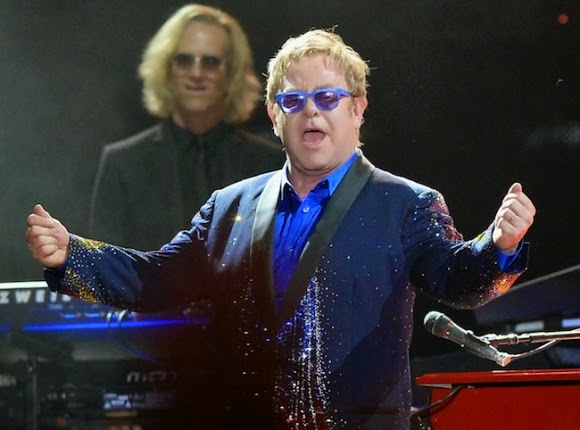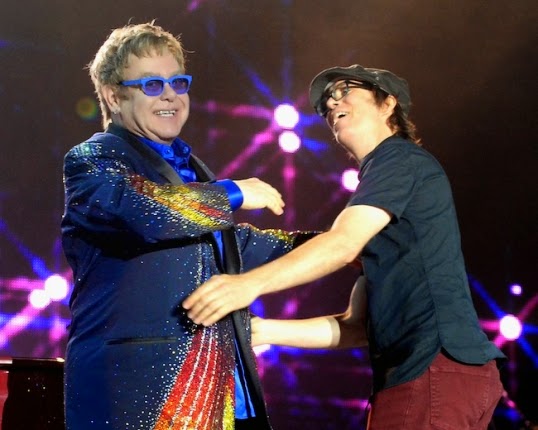 On a day when a man who helped count down weekly hit singles, American Top 40 radio host Casey Kasem, passed away at the age of 82, Elton John took a moment during his Sunday night headlining performance at Bonnaroo to briefly stop crossing off his many hits and pay tribute to the iconic pop personality.
John told his thousands of onlookers that when he first traveled to America in 1970, he immediately fell in love with the country and its pop music, partially due to figures like Kasem. After informing the crowd that Kasem had passed away on Sunday (those who hadn't checked their news feeds all day let out audible gasps of sadness), John said into his microphone, ""Travel safely, my good man," and performed a forceful version of "Don't Let The Sun Go Down on Me" as a dedication.
The brief, somber moment added gravitas to a performance that proudly unfurled John's most well-known hits and featured the cleanest sound of any main stage act over the course of the four-day festival. Backed by a seven-piece band that included two full drum kits, John did damage on a grand red piano while the percussion popped. From an extended outro for "Rocket Man" that showcased John's furious key-pounding to "Levon's" melody getting some cello accentuation, John was a consummate professional accompanied by a deservedly ace set of musicians.
"This is my first-ever festival in America," John told the Bonnaroo crowd early on, "and I know it's the best one." Technically, John performed a truncated show at the iHeartRadio Festival last September, but his Bonnaroo set was his first chance to unpack his discography in front of a U.S. outdoor crowd that might have only been familiar with a handful of singles, and may very well have attended a Wiz Khalifa show immediately prior to the headliner. No matter: John's appeal was appreciated by even the uninitiated. On Sunday night, fiery glitter dotted the sleeves of his "Rocketman" jacket, and magic seemingly flowed from his hands.
Lighters were hoisted high for "Candle in the Wind," white party streamers streaked across the audience members' heads during "Levon," and glowsticks were tossed high during the mass sing-along of "Tiny Dancer," as if Sir Elton had stumbled into an EDM festival. To the side of John and his piano was a video screen that flashed accompanying graphics for every song, and "Goodbye Yellow Brick Road" featured a career retrospective of sorts for John. The nifty clip showed it all, from his '70s heyday to "The Lion King" Broadway musical to a wedding cake with two grooms on top, a nod to his happy marriage to David Furnish that garnered hearty cheers from the Tennessee crowd.
Soon after Ben Folds came onstage to duet with John on "Grey Seal," the performance reached its home stretch and offered one beloved anthem after another: "I'm Still Standing," "The Bitch Is Back," "Saturday Night's Alright for Fighting," "Your Song." John often peered into the endless crowd and waggled his eyes behind his blue glasses, and when the Bonnaroo-friendly instrumental jams concluded, he would rise from his piano and playfully goad the crowd to keep cheering for him. In many ways, John's performance was the perfect counterpart to Lionel Richie's main stage set at Bonnaroo on Saturday: neither artist is "hip" like headliners Kanye West and Jack White, but both have crowd-pleasing singles to pull from, and know exactly how to please that crowd.
"I've been doing this for a long time. The more I seem to get older, the more I love doing it," John remarked as his headlining Bonnaroo raced to a finish. "Thank you so much for all the years of love." Like Bruce Springsteen, Paul McCartney and the Police before him, John was brought in to play the part of the heavyweight at Bonnaroo, and fans couldn't have asked for a more complete set to polish off their Tennessee festival experience.
COMMENTS
There aren't any comments yet.
Comments are closed.