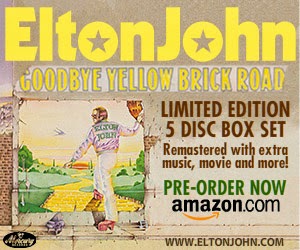 Celebrating its 40th anniversary right about now, Elton John's 'Goodbye Yellow Brick Road' remains the British artist's most enduring LP, a critically acclaimed collection that also more than tickled the pop charts, spawning two top-10 hits in the UK – 'Saturday Night's Alright For Fighting' and the title track – and seeing 'Candle In The Wind' peak one short at 11.
Clash spent a whole lot of quality time with Elton as he served as guest editor for issue 92 of our magazine – check those details here. We also got to speak to all of the surviving musicians who played major parts in the making of 'Goodbye Yellow Brick Road'. So we've collected the very best insider information from those conversations here, for a very special, extended Spotlight feature.
In 1973, the vacancy for an extravagant showman with the songs to match was all too obvious. With his star in full ascension already, that October Elton John stepped forward in dazzling platform boots to claim that role for himself. His new record, 'Goodbye Yellow Brick Road', was going to be the making of him.
It provided some of Elton's most lasting and lauded songs, from the grace and majesty of 'Candle In The Wind' and the ultra-modern 'Bennie And The Jets', to the evocative dreaminess of the title track. The making of the LP is a tale of false starts, gun-toting Jamaicans, undeniable chemistry, and an infallible passion for work.
"We were on a high," Elton says, remembering the palpable excitement as his ensemble was preparing to embark on sessions for their new album. He had six records to his name already, and each had fared better than the last. 'Honky Château' was his first to reach number one in America, while its follow-up, 'Don't Shoot Me I'm Only The Piano Player', repeated the feat and delivered a chart-topping single in 'Crocodile Rock'. As he stood on the precipice of his next move, all the signs were suggesting greatness.
"We were definitely jubilant," says guitarist Davey Johnstone. "It was definitely like we were on the right track." And that track was primarily navigated by one man: lyric writer Bernie Taupin. "It all stems from him," says Elton. "All the songs – the tempo, the way they sounded, what kind of sound they would be – were determined by the lyrics."
"It's just a magic that happens between both of us," Elton says of his relationship with Taupin. "I wish I could tell you more, but the fun and the beauty of the way we work is the element of surprise."
"One of the aces in the hole that we achieved from day one is the fact that we were multi-genre in the kind of music we liked," Bernie explains. "[Elton] came much more from a pop sensibility… He leaned very much to a black American R&B and soul kinda thing. The stuff that I liked was much more narrative, and it was country-based.
"It was a gradual growing process to realise that it was okay to dip our toes into the waters of all kind of different genres and tell stories in different musical stylings, and I think the culmination of that was probably the 'Goodbye Yellow Brick Road' album."
Way before getting into 'GYBR', Elton realised he required a proper touring outfit, rather than a collection of session players. Drummer Nigel Olsson and late bassist Dee Murray were already seasoned pros when Elton came knocking.
"We went into the studio," Nigel remembers, "and I would say the first eight bars of the first song we played when we were rehearsing, that's when I knew that this was it for me. It was totally inspired and this was the kind of music that I wanted to play; it was very original, and I felt that there had been nothing like Elton and Bernie's music since The Beatles. It gelled together."
Come the early 1970s, this rhythm section comprised Elton's recording band. Three became four with the unlikely addition of folk musician Johnstone. "I immediately got on well with Elton when I first met him, as shy as he was," Davey says, "because I would kinda suggest, 'Why don't we start the song like this?' I think he noticed my enthusiasm. I was like 19, and it was like I was a little puppy jumping around like, 'What about this? Try this!'"
Sessions for 'GYBR' began in Jamaica. Says Bernie: "The Rolling Stones had just done 'Goat's Head Soup' in Jamaica, at Byron Lee's studio, and we all thought, 'Hey! Time for a change. Let's go to Jamaica and we'll write the songs there and we'll just take it easy and record there.' So we go to Jamaica and, to cut a long story short, it was an absolute disaster. The studio was abysmal, it was a really uncomfortable feeling there, very tense. The studio was surrounded by guards with barbed wire, and the natives were definitely not friendly."
It wasn't completely unbearable, though. "There was quite a substantial amount of local ganja around, and we were legless!" Davey laughs. "So Jamaica had its moments, it really did. It set us up. It made us think, 'You know what? This is gonna be great. We'll just go back to the Château (d'Hérouville, Paris, where Elton had previously recorded) where we know and love, and we'll write the rest of it.'"
With only a weak first take of 'Saturday Night's Alright For Fighting' accrued, which sounded like "a bunch of angry wasps attacking a kid with a lollipop," according to Davey, the team – including long-time producer, the late Gus Dudgeon – retired to the familiar surroundings of the Château, and quickly adopted an intimate and rewarding routine.
"We all obviously had our own rooms there," Bernie starts. "I remember sitting on the side of the bed, writing things. I would write in the morning, come down at breakfast, and Elton would be down there working on the piano in the breakfast room, and I would give him what I had written."
Elton picks up the story: "I'd be writing, and so [the band would] have to get up because they were hearing what I was writing. They'd come down, have their breakfast, and then pick up their instruments. We'd do a very rough routine, go into the studio and put it down. We fitted together. I'd worked with them for so long by that point that they knew what I wanted, and they were brilliant. There was no, 'What do I play?' They just knew what to do."
"We were cutting three or four songs a day," says Davey. "We did the whole album in 16 days – overdubs, backing vocals, everything. I don't know anybody who works like that nowadays. If you f*ck around with it too long, or spend a long time re-cutting and redoing and remixing it, you could be at it forever. The possibilities are too endless. We said: 'That's gonna do. That's it. We've got it. Leave it. Onto the next thing.' And that's the way we'd work."
As the band bonded, Bernie was sometimes left on the sidelines. "I was always on the fringe of things," he explains. "I don't want to say that I wasn't a team player, but I think I was probably the youngest person involved… I was still finding my way musically as an individual, and I was around a lot of people who were so talented as musicians that I think I possibly felt a little bit intimidated.
"I worked on my own. When Elton wrote, he didn't care if people were around him – but I couldn't do that, with people around me. I had to be off on my own, isolated, to get into my own head to create my own dreams. That was very important to me, so I just decided that I had to be that sort of individual that just sat on the sidelines and watched the big boys work."
Elton was impressed with Bernie's contributions, even if they came from a private place. "There are so many lyrical themes going on in the album," Elton admits. "I've always been surprised by what he's given me." Says Bernie of 'GYBR' and its various themes and narratives: "It is full of story songs, which is what I always aspired to."
The album begins with the futuristic synth soundscape of 'Funeral For A Friend', composed by engineer David Hentschel. Though recorded after the album was complete, the instrumental actually introduces this set of narratives perfectly, ushering in an enigmatic and atmospheric motif that builds to almost ominous proportions, before seguing neatly into 'Love Lies Bleeding', a heavy, frenzied attack on romantic suffering.
Then comes the elegant splendour of 'Candle In The Wind', its original sentiment is still poignant and pertinent, scorning the Hollywood machine and press that gradually disparaged and eventually killed Marilyn Monroe.
"I've said on many occasions that people fell under the misconception that I was some rabid Marilyn Monroe fan," says Bernie. "I've always tried to explain that, in that song, Marilyn was just the featured player as far as I was concerned. The whole idea for me, I think, when I originally created that song, was how we tend to build a myth around people that die young. That's really what I was saying in that song: die young and you live forever. You're cast in stone and you're forever the attractive individual."
"It's like a f*cking dinosaur heading towards a city," is how Elton describes the dramatic piano stomps that launch 'Bennie And The Jets', a glam-inspired slow-burning gem depicting a futuristic band of androgynous cyborgs. "It was as if H.G. Wells had looked ahead and said, 'Okay, this is my idea of a rock 'n' roll band,'" Bernie suggests.
Initially considered just a sufficient album track upon recording, 'Bennie…''s character was refined and defined when producer Dudgeon added reverb effects and the sound of a live audience. Still, despite its improvement, "When the record company suggested that as a first single," Davey gasps, "we were like, 'Are you out of your minds? What?"
But 'Bennie…' proved a hit, topping the US R&B chart – Elton's first number one across the Atlantic. "It took me to a whole new audience," Elton says. "I love black music more than any other music – gospel music, soul music and blues music, so to have that [number one] was just an essential for me. It did me a lot of good confidence-wise, to be accepted by that area of people buying records, and it was a huge boost for me on the radio in America."
Says Bernie of the title track, seen to represent the nostalgia of a country-raised boy disillusioned by the big city: "There are a lot of our songs where it may seem like they're about one particular subject matter, but they could also be a metaphor for other things, and I'd like to think that a lot of our songs work on that level. I think '…Yellow Brick Road' might be one of them."
Themes and stories unfold across an album that grew naturally and instinctively from its enthusiastic sessions. "I don't think we went in there with the understanding that it was going to be a double album," Bernie admits. "I think the fact that there were so many songs recorded and written and that most of them were pretty good was the fact that we just said, 'This can't be a single album.'" And with such a massive project came the need for a slightly detached voice of reason. Which is where its producer comes in.
The input and involvement of Dudgeon is something that everyone is keen to emphasise. "Gus was one of the few people to have the balls to say, 'You know what? That's not great. You can do better on that part,'" Davey declares. "Which is the point of having a producer," Elton attests, crediting Dudgeon's own musical abilities. "And he would always be right. I was so lucky to have a producer like that."
The album's connection with the public was immediate. It hit number one on both sides of the Atlantic and went on to become Elton's biggest-selling album to date. Arriving at that crucial moment in October 1973, it sounded futuristic, fantastical, and fun. "It was very much of its time," Elton reckons.
As ever, though, Bernie has conflicting views: "Is it of its time?" he asks. "The thing is, so many of the songs are of another era, so I'm not sure if that's necessarily altogether correct. There are songs about bootleggers, Marilyn Monroe, Roy Rogers… When they say it's of its time, what does that really mean? In what respect is it of its time? Musically, I'm sure it was: it was a culmination of everything that had gone before… I think it's more musical than the lyrical content."
Contributing percussionist Ray Cooper confirms that its appeal is most certainly a combination of both. "Music is such a wonderful universal language, and coupled with Bernie's words, you do go through the obstacles – the personal doubt, the heartbreak, substance abuse, addiction, existential questioning – and all the other demons and angels that one comes across on a journey, and it's all expressed on this album."
"It's a great record," Bernie affirms. "I don't know if it's what we set out to make, but it's what we turned out and it turned out for the best."
These songs are the foundations upon which Elton John's legacy is built, and the brightest flames in the furnace that keeps him burning. And, while new generations persistently discover and flock to see him, their endurance – and his duty – is guaranteed. "It looks like he's going to do it until he falls off his bench – until he does a Tommy Cooper," Davey enthuses. "I can't see any other way off this yellow brick road that we're on."
COMMENTS
There aren't any comments yet.
Comments are closed.