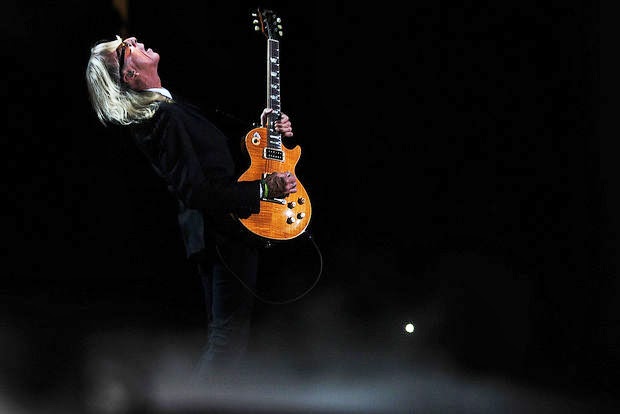 The Million Dollar Piano, playing at Caesars Palace in Las Vegas in March and April will be its only run of 2014.
Elton and the band will be coming to Lyon, France on July 16 at the Theatre Romain Fourviere.
EltonJohn.com: What do you recall about the attempt to record the album in Jamaica?
Davey Johnstone: We realized when we walked in the studio that there was no way we could make a proper Elton John record there, because it was like two microphones. It's great for reggae, don't get me wrong, and I love good reggae. But we knew we were in deep trouble when the guy said, "Carlton, get the microphone." Singular. In the studio there was carpet that was not only on floor but it was on the walls and the ceiling. The same carpet. It was like, "Which way is up?"
There were a few songs written. Not the whole album but there was four or five lyrics and songs ready. And we were ready to go. We did a version of Saturday Night's Alright that sounded like a bunch of angry bees. It just sounded terrible.
There was a very funny moment on the first day we were in the studio and he was writing Social Disease. And I thought at the time, "Banjo would be great on this one." So I went over to my banjo case and opened it up. In those days we used to transport all of our instruments on regular airlines, because we didn't have the resources to have them all shipped in the way they are now.
And so Elton's singing away on Social Disease and I kind of have one eye on him as I'm opening the case up and I picked the neck of the banjo up and lifted it out of the case…and only the neck came up – with the strings kind of dangling! The neck had snapped completely off; the main part of the banjo was still lying there. So I did a double take I guess, and Elton fell off his piano bench. Nigel fell off his drum stool. Dee started screaming with laughter. And we proceeded to laugh for about half an hour. When we finally got our breath back, Elton's first words were, "What kind of organ was it?" And we started in again. He meant to say, "What kind of banjo was it?" To this day he still uses that term if I'll bring a new guitar. "What kind of organ was that?" We just crack up again.
I clearly remember when [engineer] Ken Scott came to Jamaica, because we surprised him. We jumped from behind a bush when we knew he was walking into the hotel. We're all hiding like little kids behind this big bush. David Bowie, who Ken was producing, had a record called The Jean Genie. And for some reason we thought it would be hilarious to jump out and go, "Jean Genie!" And Ken went, "Oh, hi guys." And that was it. That was our big joke and it fell flat as a pancake.
Ken is a brilliant engineer and if he and Gus couldn't get something happening, it was obvious there was nothing we could do. We tried for one or maybe two days and it was like, "Let's end it now rather than wasting any time and money here." So we just had a vacation. I can remember mainly Nigel and I floating around in a pool in Ocho Rios having a great time.
COMMENTS
There aren't any comments yet.
Comments are closed.