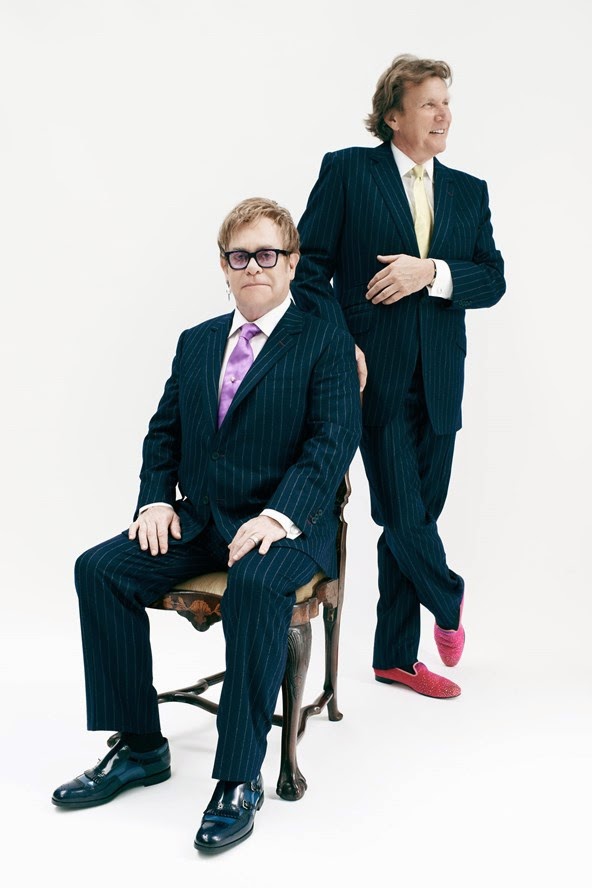 Woodside, Old Windsor, England, the morning after the owner of the house has picked up the first of two awards in as many days. Last evening, Sir Elton John performed a televised show at the London Palladium, where he collected the inaugural Brits Icon award. Later today, he'll leave his Berkshire estate again, to pick up the Genius award at GQ's Men Of The Year ceremony. But first he has a little celebrating to do: an exclusive GQ photo shoot in his private art gallery to mark the very close personal and professional relationship he has enjoyed over the past 30 years with the London jeweller Theo Fennell.
Fennell, resplendent in crimson slippers, is touched by the tribute, recognising Elton as the man who – thanks to a shared love of the audacious, the (occasionally) outrageous, but never (well, hardly ever) the outré – put his work on the map. But he's mindful, too, of the privilege he has enjoyed in having such a knowledgeable collector in his corner, never mind one so globally visible.
After the shoot, Elton offers a peek at his museum-quality collection (including an extraordinary number of old medicine bottles gathered on the banks of the Thames, stoppered with silver skulls created by Fennell), and both men repair for a lunch of sandwiches to discuss their long association.
"I'm not interested in the past," warns Elton. "Last night was very beautiful and very touching, but I'm much more interested in what tomorrow brings." Nevertheless, he's more than happy to discuss a shared passion for the arts, crafts and creativity. After all, very few contemporary jewellers have had such a high-profile patron as Elton, nor one less au fait with the term "shrinking violet".
"Theo is the only jeweller about whom, in 150 years time, people will look back and say, 'Oh my God, here was someone who was doing something different…'
"Theo opened my eyes. I'd bought a lot of beautiful things at Cartier, and in those days, 30 years ago, that was what a jeweller was: very traditional and beautiful and wonderful. But Theo was the first to have fun with jewellery. And of course I loved that.
"For me he's the most adventurous jeweller there is. The rings he was doing look so modern now, but he was like no one else I'd met. He represents everything that is great about English design: intricate and delicate but also funny and amusing, and no one else did that. I'm always looking around to be inspired by other artists, whether it's music, fashion, photography, art, sculpture, jewellery or glass – I collect a lot of glass – and he's made jewellery into a modern-day Fabergé.
"When I first went into his store I found someone who wasn't a normal jeweller, who was doing something different. He had a vision. He was the first person to use semiprecious stones that I can remember. Maybe Elizabeth Gage did, but as far as I recall he was the first to use tanzanite, beryl, labradorite; it was all about colour.
"The more we became friends, the more I wanted to spread the word. For example, I commissioned a locket from Theo for [son] Zachary's godparents for Christmas last year. It had Zachary's and their names on it, and a lock of Zachary's hair and a photograph inside. It's going to be a bit more expensive this year as we're going to have to do it for [youngest son] Elijah as well, but it's a nice thing to do because it's very Edwardian, and he's the only one who can do that sort of thing. There's no better feeling than sharing and giving. And what Theo does can't be replicated by anyone else.
"What I love about Theo's stuff is that there is an irony and sense of humour to it as well as a sense of quality, and that's the best of British for me. You can go into a shop and buy beautiful traditional jewellery – and he does that very well – but what he does better, for me, is his own expression of what jewellery should be. For example, every year that David and I have been together, I've had a solid silver number – a one, a two, a three, this year is 20 – and these solid silver numbers are wonderful things. I couldn't go into Asprey and ask for that, they'd look at me as if I was stark raving mad. But Theo gets it immediately.
"For me, the great thing about giving an artist a commission is the excitement of not knowing what he's going to come up with. Because I'm not going to tell them what to do. It's like the Million Dollar Piano show I did in Vegas; I didn't tell [creative directors] Mark Fisher and Patrick Woodroffe what to do; I saw it when I got there. And not many people are willing to do that. They want to interfere, they want to say, 'I want it that way…' But the excitement, if you've got great people involved, is to trust the process and be moved when you see it.
"And the best designers, you can feel their soul in their clothes or their shoes; even though it might be a big public company, you can still feel the designer's vision in there. For instance, he makes silver ice-cream tubs just like the ones you used to get in the cinema, when you had to peel the cardboard off and use a wooden spoon. Things that are delightful and things that are fascinating, things that are not of the norm. What I love about Theo's stuff is that there is an irony and a sense of humour to it.
"The irony I can get away with, because of who I am, but it doesn't suit everybody. Thirty years ago, men didn't wear jewellery except for those hideous gold chains. Now they do; they are much more adventurous in accessorising themselves. And they are more choosy in what they'll wear. Thirty years ago the men who wore jewellery were considered vulgar because the jewellery they were wearing was vulgar. But now they are much more adventurous and Theo has had a lot to do with that.
"And he's evolved as I've evolved. But that's the mark of a great craftsman, that their work still looks great. Theo's stuff never dates. They're classic, they are very historical,and they are timeless. And they actually look better now than when I bought them. That's the biggest tribute I can say about him."
COMMENTS
There aren't any comments yet.
Comments are closed.