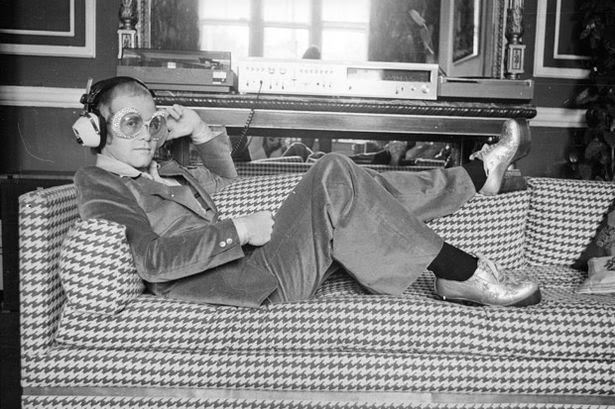 Goodbye Yellow Brick Road represents Elton John's flamboyant commercial peak and has sold more than 31 million copies worldwide.
But when it came to choosing artists to revisit the album on a newly recorded disc accompanying the album's 40th Anniversary Edition, Elton decided Ed Sheeran's down to earth approach would fit the record's most celebrated track, Candle In The Wind.
Sheeran, whose career has been ably guided by Elton's Rocket management company, was born 18 years after Goodbye Yellow Brick Road was released.
He grew up as Candle In The Wind, in its 1997 Princess Diana-dedicated reincarnation, became the biggest-selling single of all time, and a karaoke classic.
"When the idea was first mentioned to me I thought I was going to choose a track," recalls Ed, 23. "So I was thinking what to chose, then Elton just said, 'I'd like you to do Candle In The Wind'. That was obviously quite a big burden because it's such a famous song.
"But I thought the best way to approach it was, rather than try to just recreate it, make it totally different to the recorded version.
"That way it didn't seem that I was trying to make it better or do the same thing. I just wanted to compliment it by doing it differently."
On the Revisited disc, Sheeran's persuasive acoustic melancholic Candle heads a fine cast of reinterpretations with performers including John Grant and Imelda May showing the durability and the abiding strengths of Elton and lyricist Bernie Taupin's songs.
Emeli Sandé provides a stunning standout with her trippy remake of All The Girls Love Alice, the story of a lesbian wild child who dies a tragic early death.
"My mum was a big fan of the album," explains Emeli, 27, "and for me it was a real intoduction to the craft of songwriting.
"The song I do is very different to the way pop has evolved now. It's got unexpected changes musically and lyrically, telling a story from verse one to verse two. That kind of thing has been lost, I think.
"Lyrically it's ambiguous. As Elton has said, people sing along to that and have no idea what they are singing about. I had no idea myself initially, until I sat down and worked it out.
"I think it's great that this really sad story can go undercover because the melody of the whole thing is intriguing. It's a really smart, intelligent pop song."
Goodbye Yellow Brick Road remains an inspiration and wonder to young artists, but as Ed Sheeran acknowledges, the album was the result of a production schedule far more demanding than seen in today's music world.
"Nowadays we get much longer to make records. I've just spent three years making mine.
"When I spoke to Elton about it he said that at one point he was putting out three albums a year and Goodbye Yellow Brick Road was one of those three-in-a-year albums.
"The fact that it has stood the test of time is amazing because there wasn't much song selection – they just wrote them and the album came out.
"At that age [26], Elton was just a sponge, travelling the world and soaking up all the influences he could and putting them on a record, I guess."
The Candle In The Wind saga took another turn when Ed and Elton performed it at a show for Elton's Aids Foundation in Los Angeles recently.
"That was never meant to happen," says Ed, still sounding surprised. "I was soundchecking and he turned up and said, 'Right, what song do you want to play?'
"I chose Indian Sunset [an obscure track from 1971's Madman Across The Water] 1971) and he was like, 'F*** off. Choose one people will know'.
"So I suggested Candle In The Wind and he was like, 'Yeah, cool'. So we just jammed it twice and he said, 'Right, I'll see you tomorrow'.
However, no one told me I was actually going to be playing it with him on the night – I thought we'd just done it at the soundcheck.
"It was something I didn't expect, but it's a cool thing to have done and a very fun way to end a gig."
COMMENTS
There aren't any comments yet.
Comments are closed.