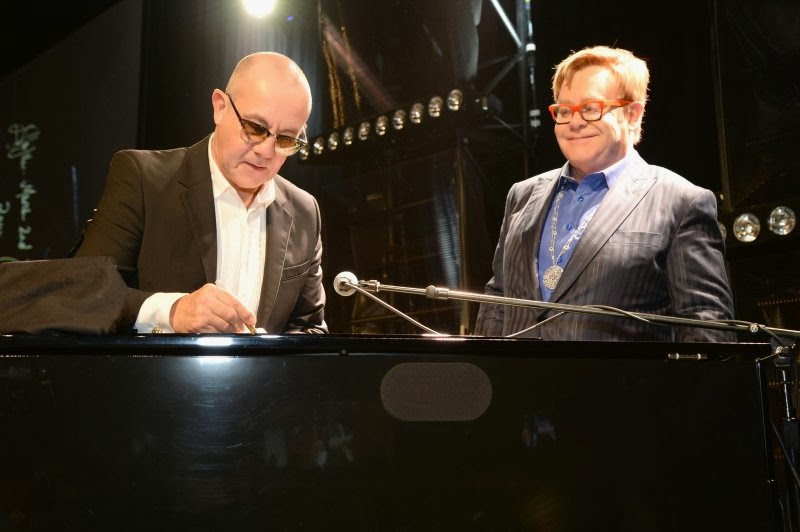 The 22nd annual Elton John AIDS Foundation Academy Awards Viewing Party hosted by Elton and David Furnish raised $5.1 million for the fight against HIV/AIDS. The gala, which took place on Sunday, March 2, at West Hollywood Park in Los Angeles, was co-sponsored by Chopard, Neuro Drinks, and Wells Fargo; American Airlines serves as the Foundation's official sponsoring airline.
Guests arrived at the Academy Awards Viewing Party for cocktails followed by a gala dinner and viewing of the 86th Academy Awards® telecast. For a second consecutive year, Chef Gordon Ramsay, British celebrity chef, television personality, restaurateur, and holder of 14 Michelin stars, prepared an exquisite 5-course meal for guests.
The dinner was followed by a lively auction. Auction items included tickets to the Broadway performance of Hedwig and the Angry Inch, with a backstage tour and drinks with the show's star Neil Patrick Harris, a print of Elton John and John Lennon taken in 1974 and signed by the photographer Bob Gruen, and a piano signed by Elton John and Bernie Taupin. Following the auction, British singer-songwriter Ed Sheeran took the stage to perform several songs, including The A Team, Lego House and a special duet with Elton of Candle In The Wind, much to the crowd's delight.
In his remarks for the evening, Elton thanked his guests for enthusiastically participating in the evening's new audience participation feature, which enabled guests to make gifts to the Foundation on the spot using their cell phones. Throughout the evening video messages from long-time EJAF supporters Ellen DeGeneres and Anderson Cooper, as well as live messages from EJAF friends Heidi Klum and Eric McCormack encouraged guests to text in pledges in support of the Foundation's urgent mission.
Near the head table, Elton and Furnish's son Zachary squirmed around in a tiny tux decorated with flashy sequin "Zs" on the back at the cuffs before being spirited away for the late action.
"This is the kind of generosity that will help us change the course of this epidemic," said Elton. "We begin to end AIDS when we get homeless teens off the streets and into shelters and job training and healthcare. We begin to end AIDS when we offer addicts a clean needle and a helping hand into drug rehabilitation. We begin to end AIDS when we help HIV-positive ex-prisoners find housing and jobs and a way to stay on their medications. We begin to end AIDS when we make sure EVERY person living with HIV has a ride to the doctor and access to healthcare and treatment."
Addressing his guests at the event, Elton said: "Look at the thousands of people you've helped tonight. The film that just won, [12 Years a Slave], was about liberating people from an awful life of slavery. And what we're trying to do is to liberate people from the stigma and the disease of AIDS, and your generosity tonight has been amazing and hopefully, it will continue to be amazing."
COMMENTS
There aren't any comments yet.
Comments are closed.