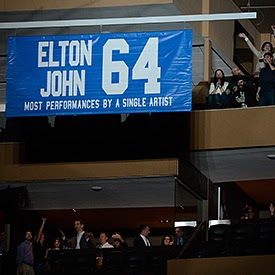 Even before Elton stepped on stage at Elton's concert at Madison Square Garden last night, the audience got to show him the love that only a New York City crowd can bestow.
As Madison Square Garden Entertainment (MSGE) celebrated Elton's return to The Garden by commemorating his 64th performance, which also marks the most performances by any artist to play at "The World's Most Famous Arena," everyone in attendance cheered and applauded as the new commemorative banner was raised to the rafters alongside the retired numbers of the athletes who have displayed their talents whilst members of the New York Knicks and New York Rangers sports teams.
"Madison Square Garden is honored to welcome back one of the greatest artists of all time, Elton John," said Melissa Ormond, president, MSG Entertainment. "With 64 performances, Elton has performed more concerts than any other artist in the history of Madison Square Garden, and we are thrilled to pay tribute to this extraordinary achievement."
COMMENTS
There aren't any comments yet.
Comments are closed.