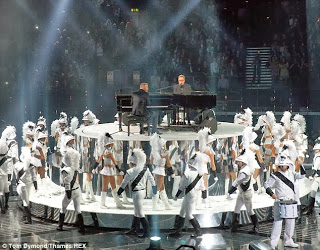 He's a multi-talented musician, as he showed when he took to the piano for a duet with Elton John on Sunday's X Factor final.
Gary was seen passionately striking the keys as he performed Face to Face with his 'lifelong hero' Elton John on grand pianos, as he left the ITV show after three years as head judge.
During the programme Gary spoke to presenter Dermot O'Leary about his departure from the show, saying: 'Not only am i finishing the show tonight but I'm going to sing with my lifelong hero.
'I'm going to miss you all terribly. I love this show.'
Speaking about how he managed to secure a duet with Elton, Gary said: 'I was straight on the phone and bless her she's here tonight.'
Elton added: 'It was so much fun watching the show, the two finalists are incredible, humble people.
'And what incredible singers they are.
'I'm very excited to be here.
'I know Katy Perry and the One Direction boys, but the real reason I did it is because Gary has been a real friend of mine for the past 20 years and when he picks up the phone you do it, because I love him.'
The pair both played the piano facing onto each other, and proceeded to engage with each other during the performance.
Elton was dressed in a sparkly black beaded suit jacket, black shirt and pair of red-framed, orange-tinted specs for the occasion.
Gary did not change, and wore his smart black suit, black waistcoat, white shirt and slim black tie for his final moment on The X Factor stage.
The pair gave a world-exclusive of Face To Face, recorded for Gary's album Since I Saw You Last.
Elton and Gary performed moment before prison officer Sam Bailey was announced the winner of The X Factor 2013.
COMMENTS
There aren't any comments yet.
Comments are closed.