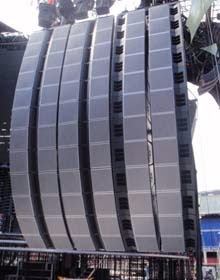 Legendary singer Elton John, at a concert in New York City Tuesday, dedicated his classic hit, "Your Song," to Clair Brothers co-founder Gene Clair of Lititz, who had died earlier in the day.
Sitting at a piano during a concert in Madison Square Garden, John first said he wanted to dedicate the song to his fans in New York City, "my favorite city to play in."
Then, he continued, "and also dedicate it to someone — when I started out years and years ago, the first sound company we ever had was Clair Brothers. And they're still my sound company for 44 years.
"In honor of that company, Gene Clair passed away today…Gene Clair, you were a genius. Thank-you for everything. Travel safely."
The moment was posted the next day on the YouTube website and may be seen here. It has received 1,080 hits since then.
Walter Eugene "Gene" Clair died Tuesday at 73. A lifelong Lititz resident, Clair and his brother, Roy B. Clair, started Clair Brothers in 1966 by providing sound for a concert by The Four Seasons at Franklin & Marshall College.
Clair Global is now the world's largest provider of concert audio systems and technicians, which it rents to touring rock, pop and country groups.
The company has handled the sound of such megastars as Bruce Springsteen, U2 and The Rolling Stones through the years.
COMMENTS
There aren't any comments yet.
Comments are closed.