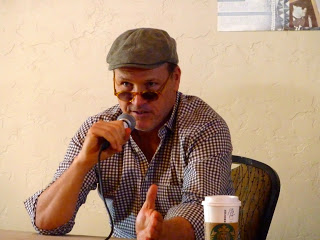 Playing bass in Elton John's band is more than just another gig for Matt Bissonette.
It's personal.
The Warren native and graduate of Warren Mott High School was no mere fan of his predecessor, the late Bob Birch. Birch was Bissonette's mentor, a student teacher at Mott who schooled Bissonette in playing bass and even gave his pupil one of his old IDs so the teenage Bissonette could get into the clubs where Birch would be playing. So when Birch committed suicide on Aug. 15, 2012, at the age of 56, after dealing with myriad health issues, it hit Bissonette hard.
"When I got that call, I was — everybody was — just in complete shock about it and couldn't believe it had happened," Bissonette, 52, recalls. "I talked to (Birch's) wife and his son and … it still seems unreal to me.
"So even today, when somebody says 'Congratulations on the gig (with John's band),' I really don't know what to say. It's just a horrible circumstance, and I really don't know what to say about it. It's just one of those bittersweet things. We all miss Bobby. Everybody misses him out here
"I just hope Bob would be happy that a fellow Detroit guy took his place. It was kind of a natural thing that it just worked out."
Bissonette got the call, not long after Birch's death, from John's guitarist and bandleader, Davey Johnstone. It was indeed a good fit; besides taking early lessons from Birch, Bissonette — who was playing in the Mott jazz band as a middle school student and studied music at the University of North Texas with older brother and frequent musical partner, drummer Gregg Bissonette — had racked up impressive credits playing with Maynard Ferguson, Ringo Starr, David Lee Roth, Joe Satriani, Rick Springfield, Brian Wilson, Boz Scaggs and more, as well as leading his own bands.
"They had some gigs coming up and just needed to move on," says Bissonette, who had to learn "a massive amount of songs and vocal parts" in short order. He even hired two friends to transcribe Birch's parts from a concert recording Johnstone gave him, but he was still apprehensive about how to approach the job.
"I walked into this situation where (Birch) had been there for a little over 15 years," says Bissonette, who was playing with Springfield at the time and co-wrote much of the material on his latest album, 2012's "Songs For the End of the World."
"He was such a mainstay with the band, it's impossible to fill that spot. I just try to keep a low profile and fit in."
Things went well off the bat; John even surprised Bissonette by telling him after the first show — on Sept. 11, 2012 — that "he saw Bob's ghost behind me while I was playing."
"It was a really big deal to Elton because Bob was one of his very, very close friends."
But it was also John who told Bissonette when it was time to come into the band in his own right.
"I used to have a picture of Bob on my bass for the first three of four shows," Bissonette says. "Elton kind of took me aside one day and said, 'You know, I love Bob and he was the greatest guy in the world, but we need to move on and have a whole new thing. I want you to play whatever you want to play. I really appreciate that you've done the thing and learned all (of Birch's parts), but I just want the band to go where it's gonna go.
"So he respectfully kind of said it's time to move on, 'cause there's no other place to go than that. But every time I go up there I'm thinking about Bob. He was a really close friend. It wasn't so much weird as it was the right thing to do."
Bass, meanwhile, became right for Bissonette at age 13, when his parents — Bud and Phyllis Bissonette, both musicians themselves — surprised him by bringing one home. He and brother, Gregg, then spent six hours in the family basement jamming on Deep Purple's "Smoke on the Water," letting the younger Bissonette feel out the role of the four-stringed instrument and start developing the sibling rhythm section chemistry that continues to this day.
"Most of the things I did I was usually just following my brother," says Bissonette, who produced Gregg's new solo album, "Warning Will Robinson." "He's the master of making things happen, so I learned when I was young to not try and compete with him and just get on his coattails and draft behind him, and I don't have a problem with that. I think it's the smartest thing I've ever done."
Dad Bissonette was a considerable influence, too; shortly after giving his younger son a bass he started having him play in his band, a trio with an accordionist that played weddings and club shows.
"I had just gotten the bass and my dad bought me a tuxedo," Bissonette remembers. "I said, 'What's this?' and he told me 'You're gonna come play bass with me next week. You're gonna make $50. You're gonna wear this tux and you're just gonna play notes, and when I point to you you're gonna get me a beer from the bar.
"My dad just kind of threw me in the fire, and it's kind of been thrown into fire after fire ever since then."
His impressive track record shows that Bissonette can handle the heat. And he doesn't hesitate to call being part of John's band the best of his many gigs over the years.
"The musicianship and the crew that's out here is unbelievable," says Bissonette, who resides in Los Angeles with his wife, stepdaughter and 17-year-old son (and aspiring baseball player), Joshua. "Everybody's really great and everybody works really hard to give the best show they can. It's amazing for me to see Elton going out there, just giving everything every night. He literally sings every lyric like it's the last thing he's gonna do. It's just an amazing lesson of work ethic.
"I remember when (Birch) got the gig with Elton, it felt like the payoff for a long career and a lot of dues that were paid. It's an amazing gig because everything's first class and the level's really high and the lifestyle is amazing. It's a nice crescendo in my eyes. I feel like God placed this in my lap to kind of go, 'OK, well, here's this for a while,' and it's been a great, great thing."
COMMENTS
There aren't any comments yet.
Comments are closed.