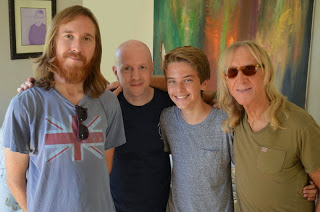 MAGIC JOHNSTONE – Davey, Charlie, Jesse and Tam – performing live in Las Vegas (Saturday 5th October 2013) at the Elton Expo 2013. The songs: Pnau vs Elton John – 'Sixty' and Elton John – 'Grow Some Funk Of Your Own.' daveyjohnstone.com
Please visit Vimeo to view a recording of their exclusive performance.
2013 sees the 40th Anniversary of Davey's much-loved 'Smiling Face' album. Featuring contributions from Elton John, Dee Murray and Nigel Olsson, the album was recorded between tours and sessions for Elton's 'Honky Chateau' and 'Don't Shoot Me..' albums. Produced by Gus Dudgeon and remastered by Guy Babylon, this classic album will soon be available on CD and – for the first time – digital download. Stay tuned for details on the 'Smiling Face' podcast, promotional videos and a documentary about the making of the album including interviews with Davey, Diana Johnstone and David Hentschel. Release date TBA.
COMMENTS
There aren't any comments yet.
Comments are closed.