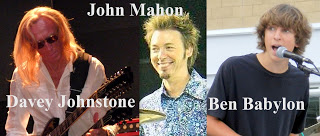 Fans attending Elton Expo 2013 in Las Vegas, Nevada, will get a special treat, when Elton's lead guitarist, Davey Johnstone, joins the Ben Babylon Band on stage, for at least one song. Percussionist John Mahon will also perform, as was previously reported.
Ben, the teenage son of Elton's late keyboard player and arranger, Guy Babylon, is scheduled to do two concerts with his band at the Expo, which runs October 4-6. The event will be especially meaningful to Ben, who remembers attending several of his father's concerts with the Elton John Band in Vegas.
"In a way, this is a tribute to my dad," Ben says. "Davey and John were good friends with him. I grew up watching them play and admiring them. It's surreal to think that they have agreed to perform with me, at a concert."
Davey and John are among Elton's band members performing on Ben's album, which is expected to be released in 2014. Ben plans to release an EP, titled "Further Interpretations of Real Life," available exclusively to those in attendance at Elton Expo. One song, "Contradiction," is already available on iTunes. Some songs on the EP were mixed by his uncle, Grammy-winning jazz musician and producer Paul Brown.
The Ben Babylon Band is comprised of Ben on keyboard and lead vocals, Brian Schwartz on guitar, Alex Arnaout on bass and background vocals, and Jagger Krusen on drums.
In addition to performances by the Ben Babylon Band, Elton Expo 2013 will include panel discussions by members of the Elton John Band and other EJ associates, producer Matt Still ("Peachtree Road," "The Captain and the Kid"), author Keith Hayward ("Tin Pan Alley-The Rise of Elton John") and a concert and after-party at Hard Rock Café featuring the acclaimed tribute band Elton Rohn.
COMMENTS
There aren't any comments yet.
Comments are closed.