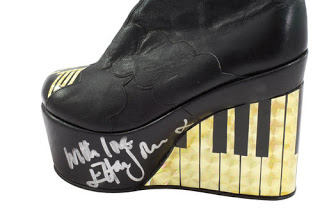 A pair of platform boots belonging to Elton John are part of a unique auction of rock and pop memorabilia being offered for sale in an auction on eBay to help raise funds for Amnesty International's human rights work.
The striking black-leather, knee-high, six-inch platform-soled boots – signed 'With love, Elton John x' and decorated with a giant gold piano motif around the platform (photograph available) – are part of a collection of items donated to Amnesty by musicians in recent years.
The boots are being offered for auction along with a signed photo of Elton John, as well as two free tickets to see the legendary performer headline the Bestival festival on the Isle of Wight on 8 September.
Other items in the auction include a signed Coldplay platinum album of the band's critically-acclaimed and enormously successful LP A Rush Of Blood To The Head (signed by all four members of the band and complete with a commemorative plaque and album artwork), a drum-skin signed by members of Genesis, a signed copy of cult band The Cocteau Twins' last-ever 12′ single Violaine, a signed pair of drum sticks from The Lightning Seeds, as well as signed t-shirts from the likes of Lily Allen, Kid Creole, John Martyn, and Mr Hudson And The Library.
The items in the Amnesty auction are now available on eBay  for ten days (with bids closing on 1 September). All of the money raised from the auction will go directly to Amnesty's human rights work.
COMMENTS
There aren't any comments yet.
Comments are closed.